Booster Could Fly by End of the Decade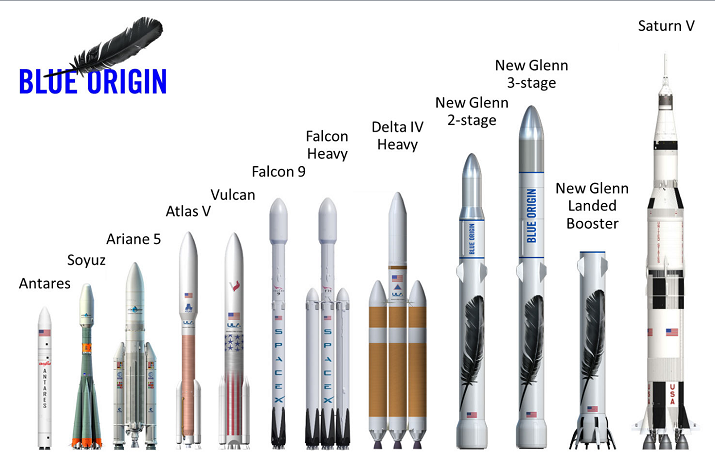 Amazon Chairman Jeff Bezos announced plans for a reusable rocket named after 1960s astronaut John Glenn. The so-called "New Glenn" rocket would be built by Blue Origin, a Bezos venture, and feature seven main engines and stand more than 310 feet tall. It could fly by the end of the decade. The company's smaller "New Shepard" booster, designed to carry a capsule into suborbital flights, in 2015 reached the edge of the atmosphere and then landed vertically back on the ground. Bezos says his planned rocket is designed to launch commercial satellites and to fly humans into space. He says that a three-stage version and its hydrogen-powered engine would be capable of flying beyond the relatively low orbit of the International Space Station.
Robot Collisions Could be a Thing of the Past
Researchers at Georgia Tech say they have found a way to get multiple robots to work more closely together by developing what they call "minimally invasive" safety algorithms. These allow robots to move within inches of each other or other objects. The idea is to shrink the size of each robot's bubble to make it as small as possible. The system allows the robots to make the minimum amount of changes to their original behaviors in order to accomplish the task and not bump into each other. A video released by Georgia Tech shows two demonstrations of the controller at work in a lab. Sets of four, then eight, robots approach each other, meet, and circle within inches of each other before dispersing. A presentation on Georgia Tech's safe swarm robots will be featured at the IEEE Conference on Decision and Control in December.
Longer, Taller, More Powerful
Denmark's Dong Energy has installed a structure in the Irish Sea that stands 195 meters tall with a rotor diameter of 164 meters. Meanwhile, Siemens reported that it had upped the top capacity of its offshore turbines to 8.0 MW. And LM Wind Power reported an 88-meter-long blade, also developed for 8 megawatt-capacity turbines. According to Siemens, offshore turbine capacity has increased 15 times in the quarter century since the first offshore wind farms began operating. Using larger turbines is a critical part of the industry's drive in getting costs down, says Dong Energy. That's because each turbine needs foundations, cables to an onshore substation, and maintenance. That means the more megawatts that can be generated from each turbine, the lower the overall cost per megawatt.