The Department of Energy's Oak Ridge National Laboratory has been using advanced manufacturing techniques, such as 3-D printing, and new materials, such as advanced composites, to produce a whole host of objects, including a Shelby Cobra sports car, an Army Jeep, and even a house and car energy system. But now Oak Ridge has made it into the Guinness Book of World Records by printing the world's largest solid 3-D-printed object.
Oak Ridge has developed a 3-D-printed version of a "trim and drill" tool that is used by airplane builder Boeing to make wings on its passenger aircraft. The tool is the size of an SUV and weighs 1,650 pounds while measuring 17.5 feet long, 5.5 feet wide and 1.4 feet tall.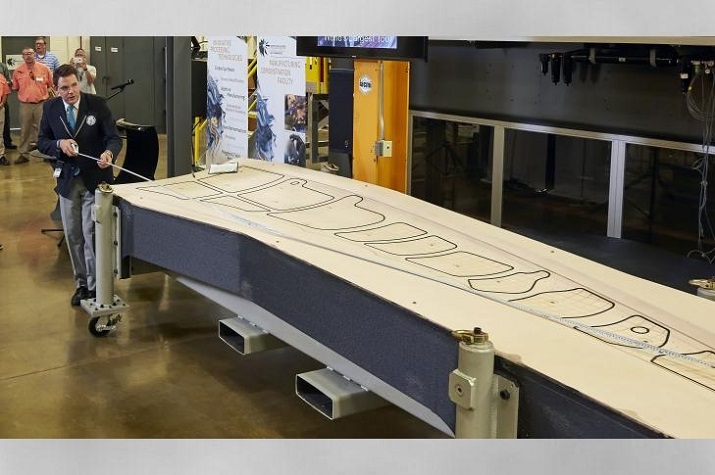 Guinness Book of World Records official measures the 3-D-printed object in order to determine a new world record. Source: Department of Energy The lab says using 3-D printing makes the final product cheaper and quicker to manufacture and works just as well as the conventional metal version. The tool could be valuable to Boeing, as it will save energy, time and money when the company begins the production of its 777X passenger jet in St. Louis beginning in 2017.
The job took 30 hours to print using carbon fiber and composite plastic materials. Oak Ridge says not only does 3-D printing offer huge energy savings, but also it allows for the acceleration of innovation by making final products quicker and cheaper to build.
In addition to this tool, Oak Ridge is experimenting with 3-D-printed molds for wind turbine blades, which could reduce manufacturing time for turbine blades and make it easier to test new designs.
To contact the author of this article, email engineering360editors@ihs.com