Melexis has introduced the MLX91804, the third generation of its tire pressure-monitoring system (TPMS) integrated circuit. Supplied in a 14-pin, DFN-type, lead-less package, this product has a 60% smaller footprint and draws three times lower sleep-mode current than any competing TPMS IC on the market, the company says.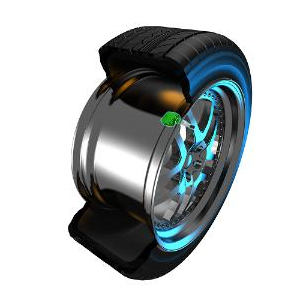 Melexis' MLX91804 represents the third generation of the company's tire pressure-monitoring technology. Image source: Melexis. The MLX91804 incorporates a microcontroller and micro-electromechanical system (MEMS)-based pressure-sensing element, as well as an energy-efficient 315/433MHz wireless transmitter (supporting data rates up to 150kbits/s), and a 125kHz receiver for communication with the vehicle's relevant electronic control unit. A 16kB embedded program memory is included for storing custom application data and libraries. In addition, there is a built-in single- or dual-axis high-g range accelerometer to support all market-available, wheel sensor auto-location functionalities.
The combination of minimal footprint and high degree of integration offered by the MLX91804 allows a significant reduction in printed circuit board (PCB) size. Likewise, the device's low-power consumption (in sleep mode as well as when fully operational) permits using a smaller battery than would otherwise be required. The –40° C to 125° C operational temperature range and strong resilience to shock (10,000g) allow the MLX91804 to deal with a harsh in-tire environment.