The global success of Tesla Motors and consumers' rabid interest in electric vehicles has set off a chain of events that have seen heavyweight automotive OEMs quickly adapt their car-making strategies to include multiple electric cars in the future. But Tesla's success also has bolstered other electric car startup companies to accelerate their own plans, including the construction of large manufacturing facilities.
The latest to announce its plans is Karma Automotive, an electric vehicle startup company owned by Chinese automotive components vendor Wanxiang Group. Wanxiang acquired the assets of Fisker Automotive in 2014 after the company went bankrupt and renamed it Karma Automotive. Now Wanxiang is planning to build a large-scale $375 million electric car factory that will have an output of 50,000 vehicles per year.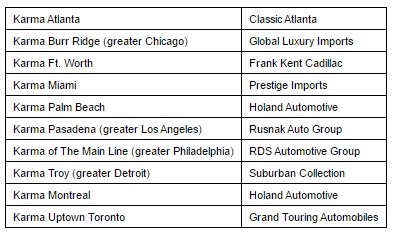 In addition to establishing an electric car factory in China, Karma Automotive has established relationships with car dealers in North America for when its Revero car comes online later this year. Source: Karma Automotive Karma's first production vehicle, named Revero, is slated to launch later this year with a starting price tag of $100,000. This was originally the same car that Fisker launched a few years ago but will be revived by Karma and sold globally.
Karma has also unveiled its North American distribution strategy for its vehicles in preparation for the Revero going on sale. Karma will be using both independent dealers and company-owned, branded centers to provide consumers access to its vehicles.
The strategy includes eight US-based dealers and two Canadian dealers. The company is working on expanding its California presence with a center in Orange County.
To contact the author of this article, email engineering360editors@ihs.com