IIHS Urges Small-Overlap Test for Vehicles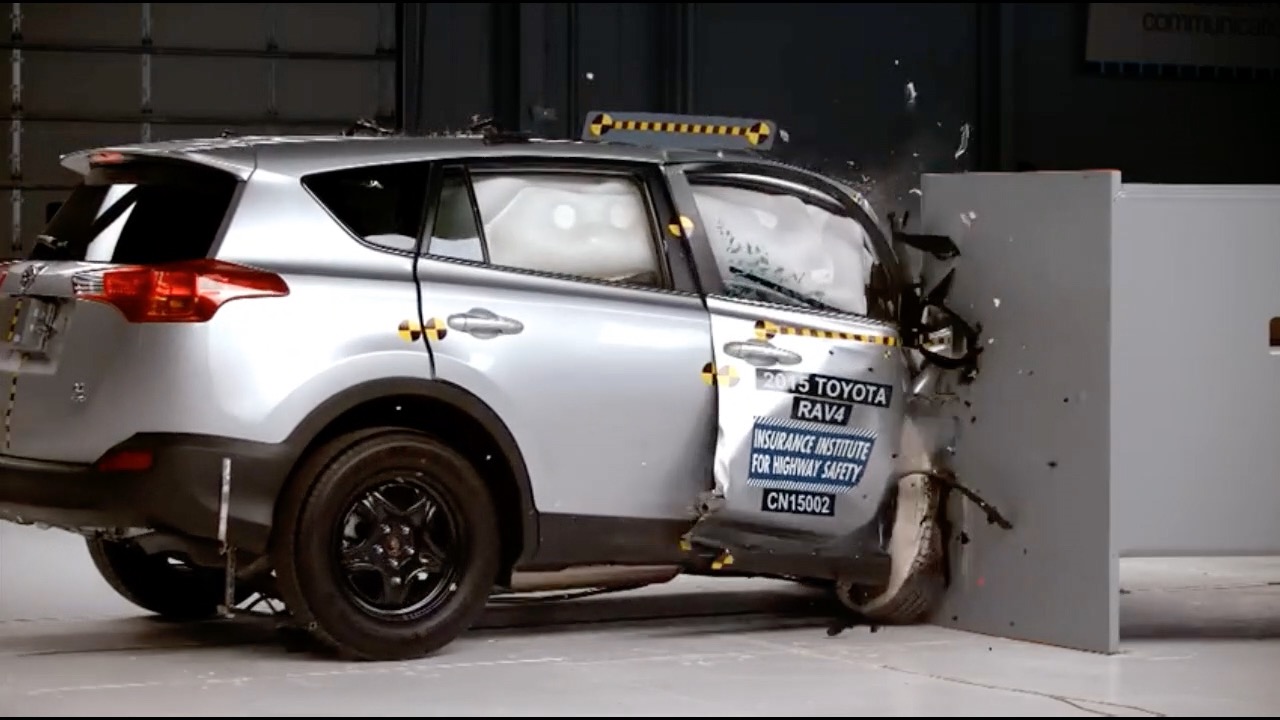 Drivers of vehicles with good so-called "small-overlap front ratings" from the Insurance Institute for Highway Safety can expect to be protected well in a crash involving the left front corner of their vehicle. But the same can't be said for passengers in the same vehicle who experience a right-side small-overlap crash. Small-overlap crashes pose a particular safety risk because they bypass a typical vehicle's main front structure. The Institute conducted 40 mph passenger-side small-overlap tests on seven small SUVs, all of which had good driver-side small-overlap ratings. Only one of the vehicles, the 2016 Hyundai Tucson, performed at a level corresponding to a good rating. The others ran the gamut from poor to acceptable. IIHS introduced the small-overlap test in 2012 following the success of its moderate-overlap front test in spurring automakers to make crash protection improvements. While the moderate-overlap test involves 40% of the width of the vehicle, the small-overlap test involves just 25%. It is designed to replicate what happens when the front corner of a vehicle collides with another vehicle or an object like a tree or utility pole.
Your Smartwatch May Be a Gateway for Hackers
Wearable devices can give away your passwords, according to new research. Scientists from the Stevens Institute of Technology and Binghamton University combined data from embedded sensors in wearable technologies, such as smartwatches and fitness trackers, along with a computer algorithm to crack private PINs and passwords. The hacked in 80% of the time on the first try and more than 90% of the time after three tries. The researchers say that hackers can reproduce the trajectories of the user's hand and recover secret key entries to ATM cash machines, electronic door locks and keypad-controlled enterprise servers. According to the research team, this is the first technique that reveals personal PINs by exploiting information from wearable devices without the need for contextual information.
Nanofilter Could Cut Energy Use by Up to Five Times
Scientists at Singapore's Nanyang Technological University have designed a nanofilter that could reduce energy consumption at wastewater treatment plants by up to five times. The hollow-fiber membrane combines the conventional two-stage treatment process into a single step. In reverse osmosis, water is pushed through a fine membrane at high pressure to separate water molecules from any remaining contaminants such as salt, heavy metals or harmful chemicals like benzene, which can be miniscule. But this high water pressure, typically 10 bars and above, requires a lot of energy. The researchers' hollow-fiber membrane eliminates both ultrafiltration and reverse osmosis, combining the two processes. It also requires 2 bars of water pressure, similar to that found in a typical home pressure cooker, to filter the same type of contaminants. Yet it produces water that researchers say is nearly as pure as through reverse osmosis.