Vishay Intertechnology, Inc. has introduced a series of high-power, surface-mount, precision non-magnetic thin film chip resistors. Built on aluminum nitride substrates, the Vishay Dale Thin Film 
PCNM series
 offers power ratings of 2 W and 6 W in compact 1206 and 2512 case sizes, respectively.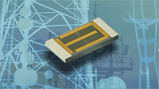 Vishay Dale PCNM series thin film chip resistors. Source: Vishay
The aluminum nitride substrates of the resistors feature enlarged backside terminations to reduce the thermal resistance between the topside resistor layer and the solder joint on the end user's circuit assembly. As a result, the devices reportedly provide four times the power-handling capability of previous-generation non-magnetic resistors, suiting them for use in power supplies for the telecommunications industry, medical industry, and military equipment and instrumentation. The resistors' non-magnetic properties eliminate the effects of stray magnetic fields on circuit performance in X-ray and MRI machines, while correcting passive intermodulation issues in cell phone base stations and amplifiers.
PCNM series devices combine their high power ratings with a low TCR down to ± 25 ppm/°C and laser-trimmed tolerances to ± 0.1% over a wide temperature range of –55° C to +155° C. The resistors are offered with a wide range of resistance values from 2 Ω to 30.1 kΩ and offer low noise of < –30 dB, low voltage coefficients of < 0.1 ppm/V, and voltage ratings from 75 V to 200 V.
Flame-resistant in accordance with UL 94 V-0, the devices are available with lead-bearing and lead-free RoHS-compliant terminations.