We know they're spying. They know we're spying. It's common knowledge. While maritime spying is heating up, a new threat may very well enter the waters delivering even more chaos.

The world is a dangerous place. In just the first few months of 2016, announcements of spy planes, ships and incidents include:
The Iranian Navy used drones and subs to spy on a U.S. aircraft carrier in the Strait of Hormuz earlier this year and it's not the first time.
Boeing will sell nine P-8A Poseidon surveillance planes to the United Kingdom—this on the heels of selling eight 737-800 jets to the Australian Air Force.
India has received eight of the 12 P-8Is it ordered and plans are to exercise an option on four more to use as long-range maritime reconnaissance aircraft to hunt and kill enemy submarines.
Boeing delivered 33 of the Poseidon spy planes to the U.S. Navy as of the end of January 2016.
The Chinese navy commissioned a new high-tech spy ship, a Type 815 surveillance vessel Neptune, complete with sensitive electronic listening devices. Neptune is capable of conducting continuous all-weather reconnaissance within a certain range.
Norway is converting the "Marjata" for maritime surveillance as Russian submarine activities equals Cold War levels. The giant spy-vessel is soon to be delivered to the Barents Sea.
Indonesia, Malaysia, the Philippines, Singapore and Vietnam are requesting information from kit suppliers, recognizing that maritime patrol aircraft and intelligence gathering platforms are now a priority. China has been building runways and other infrastructure on islands in the South China Sea, where there are overlapping territorial claims with its neighbors.
As you can see – it's getting a bit crowded out there.

Expanding the U.S. Navy's Technology

The U.S. Navy is caught in a bind with too little in available funding to order and take delivery on all of the state-of-the-art vessels it says it needs. While it is able to obtain some of them, it is also modifying and deploying new sensors and systems to render each of its existing vessels—large and small—more lethal. New construction includes amphibious assault ships, combat and smaller vessels as well as littoral combat ships (LCS). Given Russia and China's advanced military might and weaponry now in the hands of Middle East factions, the service must find ways to implement force for the dollars it has. A few of its programs include:

Last December the Navy began testing its newest major surface combatant, the guided missile destroyer USS Zumwalt, a multi-mission ship armed for surface warfare and air defense. It features a tumblehome hull, a fiberglass-type deckhouse, integrated "fight through" power system, and two BAE Systems-built 155-millimeter guns per ship to fire guided long-range, land-attack projectile to ranges beyond 60 nautical miles. The overriding benefit of the ship, however, is that its computing architecture, by Raytheon, automates ship systems, requiring only 142 personnel to go to sea. Two 36-megawatt Rolls Royce MT-30 and two 3.8-megawatt RR450 gas turbine engines power advanced induction motors, turn the propeller shafts, yielding power to ship systems.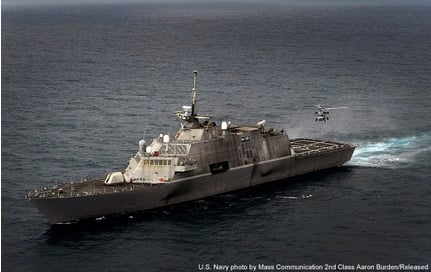 Figure 1. USS Freedom (LCS-1), the first in the Lockheed Martin Independence Class of littoral combat ships. Photo: U.S. NavyThe Navy has also developed with Northrup Grumman, interchangeable mission modules for anti-surface, anti-submarine, and mine countermeasures for use with its LCS class vessels. The modules consist of weapons and sensors and support gear. When the mission personnel and helicopters are included, the modules turn into mission "packages."

A new Aegis program for the Navy provides Integrated Air and Missile Defense (IAMD) to best attack short timelines, best possible outcome decision making and the difficulties caused by uncertain information. Aegis second-generation ballistic missile defense (BMD) intercepts post-boost ballistic missiles prior to reentry, enabling ships to shoot down the missiles by bolstering the Aegis Combat System with An/SPY-1 radar and standard missile technology.

U.S. Navy's Cooperative Engagement Capability (CEC) is developing technology connecting the next generation of Navy sensors and combat systems to enhance the fleet's air defense capability. Several sensors identify such threats as surface radars, sonar and airborne sensors, along with weapons systems that can engage a threat at various distances. The CEC integration layer moves sensor data from the sensors to weapon systems, creating end-to-end, detect-control-engage functionality. Its real-time component is also more resistant to electronic jamming.

Central for Navy's future IAMD will be the Raytheon-developed air and missile defense radar (AMDR), designated SPY-6, an "S-band" radar planned for integration with the Aegis system aboard the Flight III Burke-class destroyers. The AMDR, the Navy says, is expected to be 30x more capable than the current Aegis SPY-1D. Raytheon interface definition language modules support AMDR. The AMDR S-band delivers search, tracking, cueing, missile communication, surveillance for self-defense, and kill assessment.

The Navy's laser weapon system along with electromagnetic rail guns (EMRGs) that fire superfast hypervelocity projectiles (HVPs), are being developed. EMRGs powered by magnetic force is under test to launch an HVP up to 5,600 miles per hour.

Integrated electric drive (IED), according to the Navy, is critical to providing the intense bursts of power needed by the AMDR and laser and electromagnetic weapons, going aboard Flight III Burke-class destroyers and the future surface combatant, also called DDG-51 Flight IV.

Today, three amphibian units: the Makin Island (LHD-8), America (LHA-6), and Tripoli (LHA-7, under construction), are powered by a hybrid electric drive (HED) plant consisting of GE LM2500 gas turbine engines and an all-electric auxiliary system. The Navy claims an $18,000 savings per day in fuel costs on its first deployment.

Maritime Terrorists

We are no strangers to terrorism on the high seas. The suicide bombing of the Cole and Somali pirate attacks support the existence of such terrorism.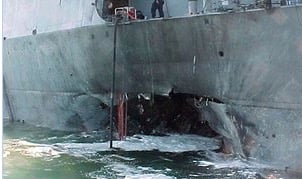 The USS Cole, which was targeted by Al-Qaida in Yemen in 2000, killing 17 sailors. Photograph: ReutersNow, however, Vice-Admiral Johnstone, a Royal Navy officer indicated that ISIS has ambitions to mount seaborne operations. A NATO naval officer concurs stating that ISIS wants a Navy to attack cruise ships or container ships. The claims are not without substance. During the first quarter last year, the province of Barqa on the Libyan coast was declared by the radical Islamic Youth Shura Council to be an Islamic emirate—thus an extension of the Iraqi/Syrian caliphate claimed by the Islamic State.

ISIS militants now patrol the town in Islamic police and the black flag is flying over some buildings. Not only does ISIS control the town's port and seaport of Ras al-Helal, near Derna. The group has boats large enough to cross the Mediterranean to southern Europe—not an easy but possible journey, especially when people are expendable. The question is will it, or will it carry out suicide missions Al-Qaida style?