The recent Applied Power Electronics Conference in Long Beach, CA, was a showcase for a number of innovative products including power systems, semiconductors, passive components, software and test equipment. IHS Electronics 360 has compiled a sampling of some of the products shown at the Conference below.
Infineon (Munich, Germany) introduced its Integrated Power Stage family of power stage devices. The Integrated Power Stage reduces power loss and simplifies design of VR solutions for multicore processors, ASICs and FPGA's where efficient power management is critical. The devices carry up to 70 A, and come in small 5 mm x 6 mm PQFN SMD packages.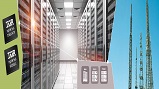 Integrated Power Stage power devices. (Source: Infineon)
The power stages also incorporate smart self-protection with both over current and over-voltage protection, very accurate temperature and current information to the customer's system.
Monolithic Power Systems (San Jose, CA) demonstrated its MP 8869W step-down converter with an I2C control interface. The synchronous, rectified converter offers a fully integrated solution to achieve a 12 V continuous and 15 V peak output current. The converter has a programmable output range from 0.6 to 1.55 V in 7.5 mV steps with slew rate control.
Artic Sand Technologies (Burlington, MA) introduced the ARC1CO608 LED driver IC, which reportedly has one of the lowest profiles and smallest footprints in the industry. Housed in a tiny WLCSP-35 package, the part can save 0.5 W (in a typical 2 W host platform), when deployed in backlights for tablets and other mobile devices. It delivers LED efficiency levels of 93.5% peak for up to six LED strings at 3.8 V input.
Dialog Semiconductor (London, U.K) demonstrated its Qualcomm Quick Charge 3.0 (QC3.0) chipset, which has begun volume production. The chipset, which pairs the iW1782 primary-side AC/DC controller with the iW636 secondary-side controller, provides a constant power profile for 3 A USB-C charging, thus optimizing transformer design and minimizing charging time. The company claims the chipset will recharge mobile devices four times faster than conventional charging.
Vishay Intertechnology Inc. (Malverne, PA) demonstrated an AEC-Q200 qualified charging transmitter coil for Qi wireless charging pads. The IWTX-47R0BE coil is greater than 70% efficient and is reportedly 18% smaller than previous-generation coil solutions. The coil exhibits an inductance of 24 nH at 200 kHz and achieves magnetic saturation of 50% at 4,000 gauss.
Power Electronic Measurements Ltd. (Nottingham, UK) showed its latest non-contact current probes for high frequency common-mode current measurement. The CMC series of current probes, which use Rogowski technology, have good immunity to voltage disturbances and a low frequency bandwidth (-3 dB) that attenuates unwanted 50/60 Hz magnetic fields while maximizing the signal-to-noise ratio of the high frequency common mode current. The probes come in coil sizes from 300 to 1,000 mm.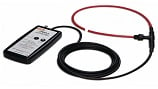 CMC series current probes. (Source: Power Electronic Measurements Ltd.)
Adaptive Power Systems (Irvine, CA) introduced two high power programmable AC frequency chargers, the 150 KVA Model APS3150 and the 180 kVA Model APS3180. The chargers have a dual range voltage output that supports continuous rated load currents of 500 ARMS per phase at 115 V or 250 ARMS at 230 V. Both models accept 380, 400, or 480 V three-phase inputs and have an intuitive front panel user interface to select output voltage, frequency and current limit.
Power Integrations (San Jose, CA) showed a new 900 V version of its InnoSwitch-EP family of off-line CV/CC flyback switcher ICs. The new device targets power supplies operating from high-voltage DC and three-phase power sources found in industrial, motor-drive, metering and renewable energy applications-- standard mains-voltage applications where continuous operation during line swells and surges is required. The ICs are highly efficient – typically 85% for a dual output 18 W design – eliminating heat sinks and enabling highly compact power supply implementations.
Electronics distributor Mouser showed several of its suppliers' products. One was the HDO4000 Series high-definition oscilloscope from Teledyne LeCroy (Chestnut Ridge, NY). The scope achieves 12-bit resolution and 200 MHz to 1GHz bandwidth. The scope features an intuitive touch-screen interface, local language user interface, WaveScan advanced search and find, history mode for waveform playback, sequence mode ideal for capturing fast pulses in quick succession, LabNotebook tool for documentation and report generation, and options for serial data decode, power analysis mode, spectrum analyzer mode.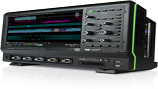 Teledyne-LeCroy HDO4000 oscilloscope. (Source: Teledyne-LeCroy)
Also on display was TDK-Lambda Z+ Programmable Power Supplies from TDK-Lambda (Tokyo, Japan). Available as a bench top or rack mount power supply, the Z+ features built-in USB, RS-232 & RS-485 interface. Also available are LAN, GPIB, and isolated analog programming options. Other features include small size (2U high), Constant Current/Constant Voltage modes, and a wide input range of 85 to 265 Vac. The 200 to 800-watt Z+ power supply suits many applications including test and measurement, production testing and burn-in, laser diode, heater supplies, and RF amplifiers and magnets.