The 21st season of the IndyCar Series kicked off over the weekend in Florida at the Firestone Grand Prix of St. Petersburg and once again, driver Sebastien Bourdais got behind the wheel of the Mouser- and Molex-sponsored No. 11 IndyCar.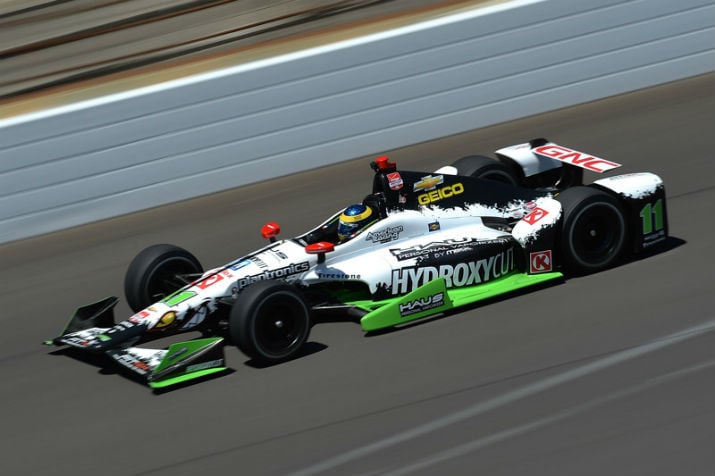 No. 11 Mouser-and-Molex-sponsored car hits the Indycar track. (Image Credit: Mouser)
The two companies have teamed up again to support the KVSH Racing Technology No. 11 car in this year's Verizon IndyCar Series. The sponsorship gives the companies an opportunity to demonstrate commitment to products that help advance the automotive industry.
"We have a long history of designing small-footprint, high-performance interconnects that excel in challenging automotive applications. We look forward to being a key part of this important partnership," said Fred Bell, vice president of Global Distribution at Molex.
"Mouser first sponsored IndyCar racing in 2011 as an inventive way to communicate our performance-driven business model and promote the newest technologies and how they affect the high-tech world of IndyCar racing," explains Todd McAtee, Mouser Electronics Vice President, Americas, Business Development. "Because every advanced, sophisticated component that goes into an IndyCar is all about precision and gaining a performance edge out on the track, IndyCar provides the perfect vehicle to build top-of-mind awareness for Mouser and its manufacturer, Molex."
These races will lead up to the 100th running of the Indianapolis 500, scheduled for May 29. The Mouser- and Molex-sponsored car won the Indianapolis 500 in 2013, and Bourdais' strong finish last year has increased hopes for an exciting racing season. Bourdais who had two strong wins last season and finished 10th overall among 40 IndyCar drivers did not get off to a great start over the weekend, coming in eighth place to start off the 2016 season.
"Obviously, not the way we wanted to start the season. I am disappointed for our sponsors and want to thank all of them: Hydroxycut, Europa, Mouser, Molex, Plantronics, GEICO, American Racing Wheels, everyone, for their support. The good news is that we had pace and qualified eighth. Unfortunately, we got involved in that melee that destroyed any chance we had of a solid finish. This is only the first race and we are going to have to work very hard to ensure we have a good season. Hopefully, with a couple of weeks to prepare for the next few races, that time together will help," posted Bourdais on his Facebook page, following the race.
The 2016 season will include 16 races: Phoenix (Ariz.) Grand Prix on April 2, Toyota Grand Prix of Long Beach (Calif.) on April 17, Honda Indy Grand Prix of Alabama on April 24, Angie's List Grand Prix of Indianapolis (Ind.) on May 14, Indianapolis 500 on May 29, and 10 more races, ending with the GoPro Grand Prix of Sonoma (Calif.) on September 18.