Infineon Technologies AG and pmdtechnologies gmbh unveiled a trio of new 3D image sensor ICs in the companies' jointly-developed REAL3 family. The sensors employ pmd's time-of-flight (ToF) distance-measurement technology and Infineon's manufacturing capabilities, including a specialized CMOS process optimized for ToF using micro-lens technology. Applying a tiny micro-lens to each pixel has roughly doubled the optical sensitivity of the new chips.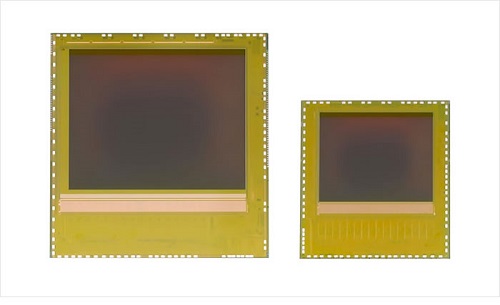 Jointly developed by Infineon Technologies and pmdtechnologies, the new image sensor chips of the REAL3 family (Left: IRS1125C, Right: IRS1615C) are exclusively delivered as bare die to allow maximum design flexibility while minimizing system costs. (Source: pmdtechnologies gmbh) Differing only in resolution, the three new REAL3 3D image sensor chips are all equipped with micro-lenses and have nearly the same level of optical performance and functionality. The IRS1125C offers 352 x 288 pixel resolution, while that for the IRS1645C is 224 x 172 pixels, and the IRS1615C is 160 x 120 pixels. Due to the smaller array sizes, the IRS1645C and IRS1615C are produced on half the chip area of the IRS1125C.
Used in Google's "Project Tango"
The IRS1645C is particularly suitable for use in mobile devices. Infineon and pmdtechnologies are joint partners in Google's "Project Tango." With "Tango," mobile phones and tablets are equipped with a special optical sensor system for 3D perception, which includes a 3D camera with Infineon's IRS1645C 3D image sensor chip. Applications include augmented reality, indoor navigation and three-dimensional measurement. The complete 3D camera for Google "Tango" — consisting of IRS1645C and an active infrared laser illumination — is housed in an area of approximately 10 mm x 20 mm. With a range up to 4 meters (13 feet), a measuring accuracy of 1 percent of the distance and operating at 5 frames per second, the 3D camera subsystem consumes less than 300 mW in active mode.
The IRS1125C will be available in volume in the first quarter of 2016. Production of IRS1645C and IRS1615C is planned to begin in the second quarter of 2016. All three parts are exclusively delivered as a bare die to allow maximum design flexibility while minimizing system costs.
Infineon and pmd will demonstrate the 3D image sensors and present concept designs for cell phone and head-mounted device applications at the Consumer Electronics Show 2016 in Las Vegas (January 6-9, 2016).