It is not a secret that the Chinese central government is investing heavily in the semiconductor industry and is supporting Chinese venture capital firms in their bid to acquire chip companies outside of the country. That means there is ample opportunity emerging in the country to take advantage of what promises to be a vast revenue expanse. That's why Taiwan Semiconductor Manufacturing Corp. (TSMC) has plans to build its first 12-inch wafer fab in China after submitting an application to the Investment Commission of Taiwan's Ministry of Economic Affairs.

TSMC currently has an 8-inch wafer facility in Shanghai, China, but this new wholly owned facility in Nanjing, China, will be a 12-inch fab with a planned capacity of 20,000 wafers per month with volume production of 16nm process technology expected to come online in the second half of 2018, TSMC says.

TSMC says the move is an effort to expand its business opportunities there as a result of the Chinese semiconductor industry growing rapidly in recent years and TSMC's revenue from Chinese customers exceeding a 50% compound annual growth rate (CAGR) in the past five years. The pure-play foundry will spend about $3 billion on the new facility including equipment (some of which will come from existing fabs in Taiwan) and Chinese government policies toward IC development.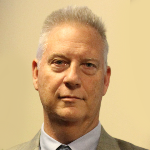 Len Jelinek, senior director of semiconductor manufacturing, IHS. Source: IHSAccording to Len Jelinek, senior director for semiconductor manufacturing at IHS, any non-Chinese company is facing great pressure from the Chinese government that is increasing domestic semiconductor production. But TSMC will also face challenges within the Taiwanese government because they are forced to limit the technology they can run in any Chinese factory. However, if TSMC did not build a factory, the Chinese government would continue to expand their "support" to domestic manufacturing companies and TSMC would face the loss of revenue, Jelinek says.

"You might classify this as a defensive move by TSMC because it anticipates an ever increasing domestic China opportunity," Jelinek says. "TSMC realizes that unless it builds a facility in China it could miss out on potential long-term revenue opportunities especially with the Chinese government strongly encouraging the expansion of domestic manufacturing."

Over the course of the past year, Chinese venture capitalists have made a splash in the semiconductor market with investments and acquisitions in order to grow China's domestic semiconductor industry. Royal Philips agreed to sell 80.1% of its Philips Lumileds, which makes LED components and automotive lighting, to GO Scale Capital. Go Scale also launched a $5 billion mergers-and-acquisition fund to target cross-border buyouts of emerging technology companies in order to scale opportunities in China.

In July, another Chinese venture capital firm known as Uphill Investment Co. fought off Cypress Semiconductor in order to acquire chipmaker Integrated Silicon Solution Inc. (ISSI). Yet another firm, Hua Capital Management Co. Ltd grabbed up OmniVision Technologies Inc. in order to gain image sensor ICs.