Olea Sensor Networks is bringing its intelligent sensor and cloud-based sensor platforms for the Internet of Things (IoT) and advanced driver assistance systems (ADAS) to the Consumer Electronics Show in Las Vegas in January 2016.
Olea (Reno, Nev.) will be demonstrating its connected car and connected care sensors that monitor the vital signs of the driver and passengers for automotive safety with both embedded and aftermarket models. Olea's HeartSignature analytics also can biometrically identify each connected passenger for both identification and infotainment purposes.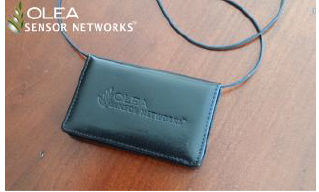 Olea's OS-3008 is a wireless, contactless devices that provides overall well-being information for the elderly or chronically ill. (Source: Olea)
Olea will also be showing off its Life Presence Detection for applications in the automotive, industrial equipment and security systems markets. This system detects one or more humans or animals either stationary or in motion. In the automotive market this could be used to monitor the life signs within vehicles and send an alarm via a mobile device should a child or pet be accidentally left behind. In industrial equipment, it has a 5 meter range and can protect again collisions in warehouses or industrial environments. It can also be used in home or office security to monitor occupancy.
Lastly, Olea will be showcasing its OS-3008 wireless contactless device that provides real-time information on the overall well-being of the elderly, the chronically ill or those just looking for information on their health. It can be worn in a shirt pocket, an external device holder or embedded into chairs or beds.