Cambridge CMOS Sensors (CCS) announced a miniature gas sensor targeting use in smart phones, tablets, wearables, and connected-home devices. The CCS811 uses micro-hotplate technology and metal-oxide sensing material to detect ethanol (alcohol), hazardous gases such as carbon monoxide (CO), and a wide range of volatile organic compounds.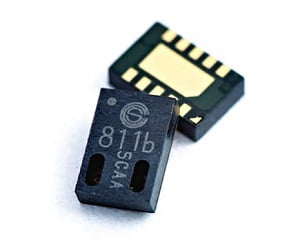 The Cambridge CMOS Sensors CCS811 digital gas sensor. (Source: Cambridge CMOS Sensors)
Housed in a 2.7 mm x 4.0 mm land grid array (LGA) package, the CCS811 integrates a metal-oxide sensor with a microcontroller (MCU) and analog-to-digital converter (ADC). To take a measurement, a micro-hotplate heats the metal-oxide sensing surface to required temperature. According to CCS, fast cycling and measurement times minimize power consumption. The CCS811 draws less than 1.2mW, on average, during active sensor measurement, and less than 6µW in idle mode.
CCS says the device is the company's first digital product for monitoring indoor air quality. The on-board MCU handles the tasks of managing the sensor and ADC, acquires the measurements, uses specialized algorithms to calculate equivalent CO2 (eCO2) and total VOC (TVOC) levels, as well as passes results to the host over a standard I2C digital interface. This on-board processing is designed to minimize the processing load on the host system, reducing the overall system power consumption. The company also notes that compared to using separate gas sensor and microcontroller chips, which typically require two or more additional components, the CCS811 saves on the bill of materials (BOM) and up to 60 percent on circuit board footprint.
The CCS811 in a 10-lead, 0.6mm pitch LGA package will be priced at $5.82 each, in 10,000-piece quantities. Samples are available now — as are customer evaluation kits consisting of a CCS811 paired with Windows-based sensor-measurement and data logging software.