3D Printing is enabling a number of cool innovations and research projects challenging the way businesses operate and how we can enable creations in our everyday lives. But now, researchers at Penn State University are using 3-D printing in order to determine how our sense of smell allows humans to enjoy food.
Tasting food relies on food moving from the back of the mouth to the nasal cavity, but it has always been a point of interest why the airflow doesn't carry the food volatiles in the other direction, into the lungs. In the past, researchers looked at the nasal passages, but not at the pathway from the back of the mouth to the nose. In this case, researchers used data from CT scans and the help of two radiologist to build a schematic of the human airway and used that schematic to make a 3-D model using a 3-D printer.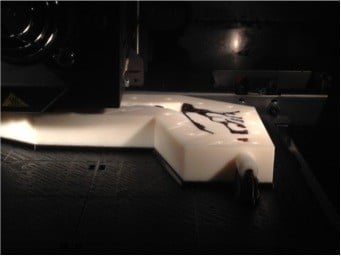 A partially completed 3-D printed model of the nostril to trachea schematic used in Penn State's research. Source: Penn State
The results were that the chewed food particles end up in the back of the mouth, in a sort of side cavity to the main airflow. When air is then inhaled through the hose, the air forms an air curtain to prevent volatile particles released from the back of the mouth into the lungs. But when a human exhales, the air sweeps into the area with abundant food volatiles moving them into the nasal cavity where they are sensed by olfactory cells.
Researchers determined that the movement of the particles is also effected by the speed of breathing. Slow breathing maximizes the delivery of particles to the nose allowing food to taste better if you take your time and the opposite if you are heavy breathing.
So researchers recommend for a really good meal, taking your time and slow your breathing to enjoy it that much more.