The Missile Defense Agency (MDA) has given a Lockheed Martin team $784 million to develop, build and test the Long Range Discrimination Radar (LRDR) that will support a layered ballistic missile defense strategy to protect the U.S. from ballistic missile attacks.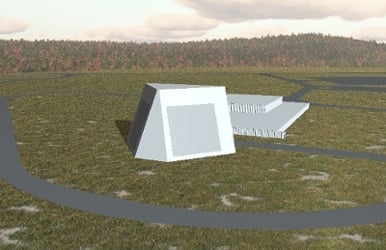 Illustration of the Lockheed Martin radar in Alaska. Image Credit: Lockheed MartinLRDR is a high-powered S-Band radar incorporating solid-state gallium nitride (GaN) components and will be capable of discriminating threats at extreme distances.
It is a key component of the MDA's Ballistic Missile Defense System (BMDS) that will provide acquisition, tracking and discrimination data to enable separate defense systems to lock on and engage ballistic missile threats.
"The U.S. has a limited number of ground-based interceptors to detect threats, yet the number of potential missile threats—and countermeasures used to hide those threats—is growing," says Carl Bannar, vice president of Lockheed Martin's Integrated Warfare Systems and Sensors business. "Our offering meets the MDA's vision for LRDR by pairing innovative radar discrimination capability with proven ballistic missile defense algorithms."
This MDA backing builds upon the U.S. government's long-term investment in S-Band radar, ground-based radar and systems integration, as evident in such Lockheed Martin technologies as the Aegis Combat System, Space Fence and Aegis Ashore. Since 2012, LockheedMartin has offered solid state ground-based S-Band radar utilizing an Open GaN Foundry model that leverages relationships with strategic suppliers.
"Our mature, scalable GaN-based S-Band technology was ideally suited for this high performance ballistic missile defense application," Bannar says. "LRDR represents the latest evolution in ground-based radar and ballistic missile defense."
LockheedMartin aims to complete the system and have it prepped for testing in Alaska by 2020. Once complete, LRDR will consist of a solid-state, active electronically-scanned antenna and the facility to house and operate this radar antenna.
To contact the author of this article, email engineering360editors@ihs.com