Wearable fitness technology specialist Sensoria Inc. has announced at the Health 2.0 Fall Conference in Silicon Valley that took place on October 4 – 7, 2015, that it had partnered with Orthotics Holdings Inc. to deliver the first IoT-enabled orthotic device to prevent falls, which can be devastating for the elderly.
The partnership takes on more significance in light of the recent announcement by J.P. Morgan Asset Management and the AARP of the AARP Innovation Fund, a first-of-its kind investment fund with approximately $40 million in assets that will provide capital to innovative companies focusing on improving the lives of people 50 years or older.
The Smart Moore Balance Brace was demonstrated at the global Health 2.0 event that is dedicated to the advancement of healthcare technologies. The device is currently undergoing clinical studies and should be available in early 2016, according to Alick Law, director of business development at Sensoria.
As with most custom orthotics, it is available through a podiatrist and is reimbursable.
Moore Balance Braces (MBBs) have been available for many years, with debatable effectiveness. Still, Sensoria referred to figures from the U.S. Centers for Disease Control & Prevention that indicate more than 14 million American adults aged 65 or older, experience a fall each year. That is over 30% of the same overall population.
"An independent study has shown balance improvements with the use of the MBB, however, until now, there has been no effective way for doctors to track if their patients are using the device as prescribed," says Sensoria.
As with many treatments or therapies, it is often the patient who does not follow through after leaving the doctor's office. With the Smart MBB, proprietary pressure sensors are embedded in the orthotic at key points during the orthotics' manufacture and the data will be fed via a Bluetooth Smart connection to an app, which can be monitored as needed. This both monitors gait, variations in which can also be an indicator of the effects of pharmaceutical therapies, as well as ensuring basic physical therapy is being followed.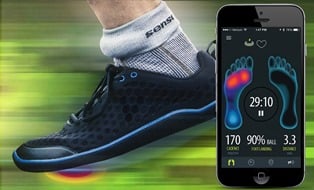 Caption 1: The combination of wearable pressure sensors and conductors, connected to an ankle bracelet that streams data to a phone app, forms the heart of Sensorias work on a smart orthotic to monitor gait and prevent devastating falls.Sensoria's expertise comes through its work on truly wearable technology, guided by the vision that, "the garment is the personal computer," says Law. The company's technology has to date been realized in fitness monitoring devices, specifically socks and a heart-rate monitoring shirt.
Of particular interest in this context are the socks. These incorporate the proprietary textile sensors and textile conductors that are used to detect and feed foot-strike pressure and related motion to an ankle bracelet that is connected to the sock with magnetic connectors and which streams data to the mobile app over Bluetooth. The bracelet also includes an accelerometer to allow the system to measure cadence. It is this system that is the heart of the Smart MBB.
Almost three years in development, the socks faced many issues, not least of which were wash ability and durability, and developing a fabric-based circuit board with conductive traces. "We then had to figure out how to program sock-making machines to make the connection to relay the signal from the sensor on the bottom of the foot, all the way to the ankle [where the bracelet is worn]." In the case of the Smart MBB, the sensors and conductors will be embedded in the relatively more stable environment of the orthotic itself.
While Sensoria has many patents filed on its technology, according to Law, the company's goal is to enable other product companies to adopt our technology platform, companies such as OHI. "Our long term goal is to embed our sensor technology and our software development and engineering capabilities and our infrastructure into other products."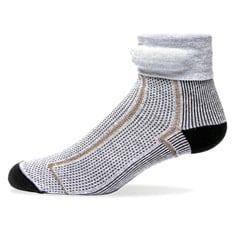 Caption 2: Sensoria is making its wearable IoT-based technology platform, software and infrastructure available to designers and product developers, many of whom may be able to tap into the AARPs $40 million innovation fund for healthcare technology applications for the elderly.It is this kind of enabling technology and approach that could help designers develop the next level of technology and application that could tap into the newly minted AARP Innovation Fund.
The Fund itself is an effort by the AARP to make sure, "that the needs and interests of those 50-plus are well represented by products and technologies," says Jo Ann Jenkins, CEO of the AARP. A generation of baby boomers has already passed that stage, and are well into retirement, making health care an increasingly urgent issue. As such, the fund will make direct investments in early- to late-stage companies developing innovative products in three healthcare-related areas:
Aging at Home: Products and services that leverage technology to enable older adults to continue living in their homes safely and affordably such as: home sensor activity tracking; hearing and vision health; mobility assistance; meal plan/delivery/cooking solutions; social communities; physical augmentation devices.
Convenience and Access to Healthcare: Products and services that enable 50-plus consumers to adopt positive health behaviors that they welcome into their lives such as: telemedicine; consumer diagnostics; consumer care transparency tools.
Preventative Health: The fund will seek to expand the market for products and services that help 50-plus consumers prevent the onset of serious health conditions such as: diet and nutrition management; stress and emotion management/therapy; fitness apps and programs; integrated health engagement incentives; cognitive and brain health.
In addition to financial support, some companies receiving these investments will have access to the AARP's knowledge and distribution channels to help 50-plus consumers, have the opportunity to benefit from these innovative products and services.