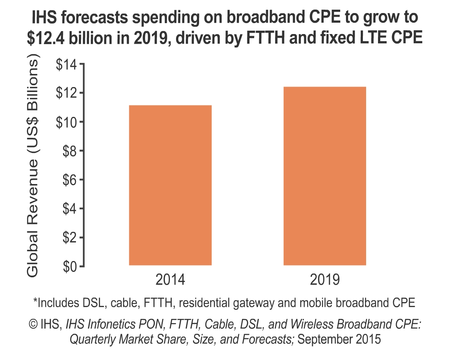 Spending on broadband CPE is set to grow to $12.4 billion driven by demand from China. Source: IHSThe outlook for broadband customer premises equipment (CPE) market has been raised by 8% to $12.4 billion by 2019, the result of increased demand coming from China, according to a new report from IHS.
The broadband CPE market includes DSL, cable, fiber-to-the-home (FTTH), residential gateways and mobile broadband CPE. The primary reason for the increase in the outlook for CPE is the massive investment happening in China, says Jeff Heynen, research director for broadband access and pay TV at IHS.
"Despite reported economic headwinds, the Chinese government continues to subsidize telco investments in fiber infrastructure to expand accessibility and throughput," Heynen says. "The result is heavy spending on GPON and EPON ONTs."
There is also a shift happening in FTTB-to-FTTH architecture in China because of the disappointing results from FTTB. "Consumer aren't interested in a connection that offers only a marginal improvement over what they already have," Heynen says. "If they are to subscribe to a home broadband service, it needs to provide a minimum of 8MB to 10MB speeds."
Other trends happening in the broadband CPU market include:
FTTH optical network terminals (ONTs) in China doubled in
unit shipments from 9.8 million units to more than 20 million units from 2Q14 to 2Q15.
In the second quarter of this year, the global broadband CPE market grew 5% from the previous quarter to $2.9 billion while unit shipments grew to 11% up to 61 million units.
Global broadband CPE revenue is up 7% from one year ago in the second quarter.
DSL CPE unit shipments were down 1% to 23 million while VDSL IADs posted the highest growth of 11%.
Fixed LTE CPE shipments grew 4% during the second quarter.
Questions or comments on this story? Contact engineering360editors@ihs.com
Related links:
Infonetics PON, FTTH, Cable, DSL, and Wireless Broadband CPE
News articles:
Qualcomm Grabs Ikanos to Further Enable the Internet of Things
Wi-Fi to Reach 90% of Global Households by 2019, IHS Says
Enterprise Router Sales Fall in 2014