Building a rocket does not sound like an easy task, but with the Internet, you will likely find plenty of DIY Rockets with instructions and guidelines for building one yourself. You can easily find out how to construct a water rocket, a soda-bottle rocket, or even a handheld rocket launcher.
Unfortunately, it is not that simple—especially if you want a build a 150-lb, fully functional rocket.
Let's Build Rockets tests. Credit image: Eric SimsTwo years ago, a group of college and high school students formed a rocket-building group called Let's Build Rockets. Since the group's commencement, it has built and tested different small solid-fueled engines and rocket parts. Now the group is dedicated to building a liquid-fueled rocket and launching it to an altitude of over 16,000 feet—and it is no easy task.
EricSims, Let's Build Rockets' founder and organizer, began toying with rocket propulsion systems four years ago, and although certainly not veteran engineer, Sims' parents prepped him for a lifestyle of engineering. First, his mother taught him how to solder when he was in elementary school and then his dad stocked up on programming textbooks for him.
By the time he was in high school, he had a pretty good understanding of electronics and mathematical principals.
"I would use CAD software to draw parts, computer algebra systems to help me with math, and schematic editors to create more complex electrical circuits," Sims says in an interview.
So, he started the Let's Build Rocket group and now he and his fellow rocket-loving members are determined to successfully complete a liquid-fueled rocket.
The rocket is projected to be relatively large for a hobby rocket, weighing-in at close to 150 lbs.
Typically, solid engines are used in hobby rockets and are manufactured and then installed by the hobbyist to ensure safety and reliability, but Sims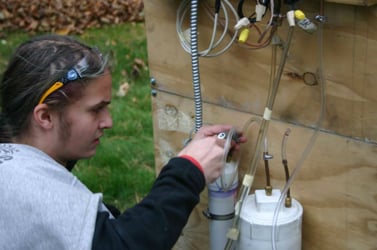 Eric Simsdecided to power the group's next rocket with a liquid-fueled engine instead.
"We are developing our own engine that mixes kerosene and liquid oxygen to create an intense combustion and therefore expanding gases, and thrust. Using this technology requires complex feed systems, sensors and electrical controllers. This is where most of our time and energy is spent," says Sims.
The Rocket

The rocket team is working on a control system that is responsible for the sensor logging, valve control, ejection charges and data down link, which transmits a continuous stream of data over a 2.4 Ghz band. At any given point, there could be up to 16 analog sensors connected to the 12-bit ADC included. The rocket's relay units are simple modules that contain an array of relays to control valves, the igniter and other outputs.
The rocket also includes a recovery system consisting of two parachutes: a drogue parachute and a main parachute. The drogue parachute will deploy when the rocket reaches its highest point in order to slow down the free-fall rate and the main parachute will deploy once the rocket reaches 1,000 feet to slow descent to 20 feet per second.
Although the team has tested three engines already, they are mostly focused on their liquid-fueled engine that they call the V4 Mark I.
The V4 Mark I is a 300-newton thrust engine made from 6061 aluminum, which contains magnesium and silicon.
Let's Build Rockets had to find a space to work on their rockets too. Luckily, the team had some connections at the CT Hackerspace Facility, which comes equipped with a stocked metal shop.
Challenges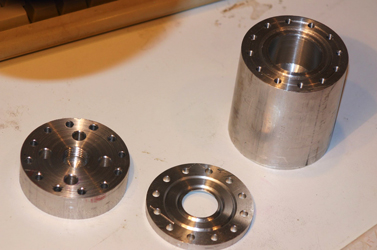 The V4 Mark I Engine in progress. Credit image: Eric SimsSims reveals that, not surprisingly, being young and starting a group of this nature poses some challenges, but the group faces standard challenges of funding, just like most startups do too.
"Many of the materials and tools we use are expensive. A large portion of our budget goes to pipe, tanks and fittings. Most of these individual parts are not extraordinarily expensive, but there are hundreds of fittings required for all of the testing we do. The sensors and control valves can easily cost well over $100 each," he says.
Despite unpopular feedback, the crew has gotten in regard to its members' ages and credibility, it is determined to finish the project and launch this rocket.
"We will continue to work hard and create cool stuff. We are always finding new, interested students and teaching them everything we can," he says..
Let's Build Rockets will have an exhibit at the NY World Maker Faire later this month and will also make an appearance at the Greater Hartford Mini Maker Faire in Connecticut, Sims' state of residence.