The semiconductor industry has been wrought with billion dollar mergers and acquisitions, but SK Hynix is looking to grow internally by investing 46 trillion won ($39.1 billion) in three separate fabs over the course of the next 10 years.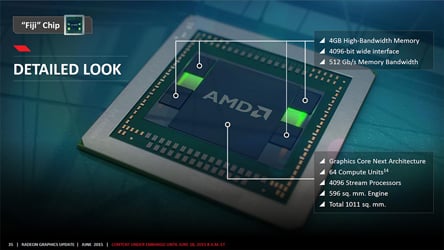 AMD's Fiji chip is considered one of the most advanced chips manufactured today. Source: AMDIf it follows through with this massive investment, SK Hynix will become the world's largest semiconductor manufacturer—a title currently held by pure-play foundry Taiwan Semiconductor Manufacturing Corp. (TSMC). The investment will be split into two parts. The first will be in building two new semiconductor foundries for 31 trillion won ($26.4 billion) that will come online in 2024, and the second is investing some 15 trillion won ($12.8 billion) in its M14 fab to increase Hynix's production of 300mm wafers to 200,000 stars per month.
The M14 fab will be the first time in 18 years that a Korean company will build a 300mm production facility in South Korea. SK Hynix says that M14 fab will manufacture memory. Meanwhile, the other two new fabs will manufacture semiconductor chips for fabless semiconductor vendors, which will give big chip vendors such as Nvidia, Qualcomm or even Apple an alternative.
Currently, SK Hynix jointly develops Advanced Micro Devices (AMD)'s 8.9 billion transistor Fiji chip with TSMC. The Fiji chip is developed using TSMC's 28nm process, then gets shipped to Hynix for inclusion of Hynix's HBM memory.
Questions or comments on this story? Contact engineering360editors@ihs.com
Related links:
IHS Semiconductor Manufacturing
News articles:
Toshiba, SK Hynix Settle NAND Flash Theft Dispute
Avago to Acquire Broadcom for $37 Billion
Micron and Intel Team for 3D-NAND Flash