Revenue from broadband consumer premises equipment (CPE) is expected to grow 20 percent in 2014 to reach nearly $11 billion, according to a new report from IHS Technology.
The projected growth of $1.8 billion this year—the highest percentage growth for this market since 2010—is being driven largely by a resurgent digital subscriber line (DSL) CPE market, according to the latest home networks intelligence broadband CPE market monitor report from the Consumer Electronics service of IHS. The DSL CPE market declined in 2013 as a result of operator investment in fiber-to-the-premises (FTTP) infrastructure to increase bandwidth to the home.
According to IHS, new very-high-speed DSL bonding and vectoring technologies are letting service providers offer broadband speeds up to 200 megabits per second on legacy copper infrastructure—speeds that make the technology competitive without the need for investment in FTTP infrastructure.
"Managing the broadband experience has become a strategic priority for Internet service providers (ISPs), with online video consumption and the number of connectable devices in the household continuing to grow rapidly," said John Kendall, senior analyst with the IHS Connected Home research practice, in a statement. "Delivering a reliable broadband service that meets customer expectations increasingly requires investment in more advanced broadband CPE that not only expands bandwidth to the home, but also around the home."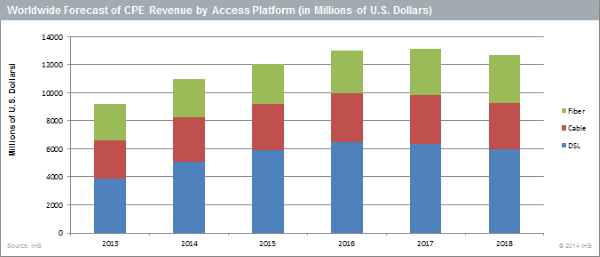 IHS expects the CPE market to grow by $1 billion in 2015 and another $1 billion in 2016. The firm expects revenue for this market to peach at $13.1 billion in 2017.
The increase in bandwidth throughput in more mature markets has shifted the bandwidth bottleneck from the last mile to the household to the CPE serving that household, according to IHS. With so many connectable devices dependent on wireless Internet access, Wi-Fi is increasingly becoming the choke point for connectivity, according to the firm.
Broadband CPE shipments incorporating the 802.11ac specification are expected to grow rapidly through 2018 as operators seek to alleviate this issue, IHS said. Total households with ISP-supplied 802.11ac are expected rise to 472 million in 2018, up from just 116,000 in 2013, according to the firm.
"The 802.11ac standard offers service providers the opportunity to initially leverage better Wi-Fi as a differentiating factor, but it will very quickly become table stakes, especially in more mature, saturated markets," Kendall said.
ISPs should focus on partnering with customers by helping to manage bandwidth, route traffic more efficiently and monitor and remotely troubleshoot interruptions or degradation of service, Kendall said.
"The future of the broadband CPE market will no longer only be served by brute-force bandwidth solutions, but by more intelligent management of that bandwidth in the home network," Kendall added. "This has the added benefit of reducing operating expenses, such as lowering call volumes to service centers and expensive truck rolls."
Related links: