With smartphone use in motor vehicles reaching ubiquity, a wealth of challenges and opportunities exist for automakers and semiconductor suppliers making this trend the most disruptive development in infotainment, according to a new report from IHS Technology.
IHS forecasts that in the upcoming years, telematics portal head units, which can connect with a smartphone for mobile broadband connectivity, will be the most promising opportunity for automotive makers. Revenue for automotive infotainment processor chips for telematics portal head units will grow to $508 million by 2018, up from $128 million in 2013, as shown in Figure 1, IHS said. Maybe bigger news is that this application will grow to 30 percent of total global automotive infotainment processor revenue by 2018, up from just 8 percent in 2013.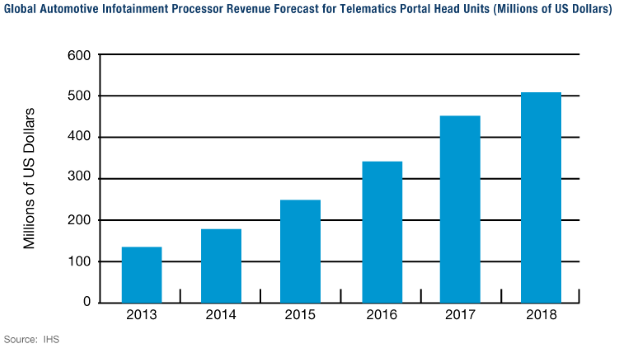 IHS sees the highest revenue segment last year, head units for navigation, shrinking dramatically by 2018, plunging to $51.0 million, down from $367.8 million in 2013. This is because navigation is becoming a standard feature not only by multimedia and telematics portals but also by smartphones.
"Smartphone use in vehicles has led to two divergent approaches to head-unit designs, one replacing smartphone and the other one embracing them," said Tom Hackenberg, senior analyst for microcontrollers and microprocessors at IHS, in a statment. "For the most part, automakers are heeding the call to accommodate mobile devices. This explains the dramatic rise in revenue for telematics portal head units, which address the complexities of the human-machine interface as well as the increasing consumer demand for ubiquitous connectivity."
The future of infotainment seems to be tied to the smartphone, according to IHS, as not only will infotainment systems come with networked displays but controls build into the steering wheel and large touch screens will be able to connect to a smartphone. This will help satisfy the demands from consumers that automotive OEMs are trying to quench.
Not surprisingly, IHS sees this growth in automotive OEM features to take away from the aftermarket vendors, which will be hard pressed to meet the experience coming from integrated systems.
Challenges remain
The more features vehicle OEMs add to an infotainment solution means the potential risk of something going wrong. If a flaw is introduced into a vehicle system or something clashes with another electronic system, this could create a liability issue in the vehicle's design. Also, additions such as these could be construed as driver distraction, also a liability for OEMs.
These concerns are obviously weighed against the desires of consumers for such connectivity options, which could tarnish brands or make them irrelevant, IHS said. This means most OEMs need to find a balance between a safe driving experience and one that meets or exceeds the demands of the consumer.
Related links:
Automotive Infotainment Processors Report - 2014
IHS Automotive & Transportation
News articles:
Why UMC is Boosting Automotive Chip Business
Apple Claims 10 Million iPhone 6 Sales in 3 Days
ST Targets Camera Modules with New Piezo MEMS Actuator
Huawei Buys Neul for IoT Thrust