Microsoft Corp. will acquire Nokia Corp.'s mobile phone handset business in a $7.2 billion deal seen as Microsoft's last ditch attempt to ensure a future for its Windows Phone operating system.
Microsoft said it would pay Nokia 3.79 billion euro (about $5 billion) to acquire Nokia's Devices and Services business, plus an additional 1.65 billion euro (about $2.2 billion) to license Nokia's patents for a period of 10 years. Nokia announced that Stephen Elop will step down as Nokia president and CEO and presumably join Microsoft at the close of the transaction.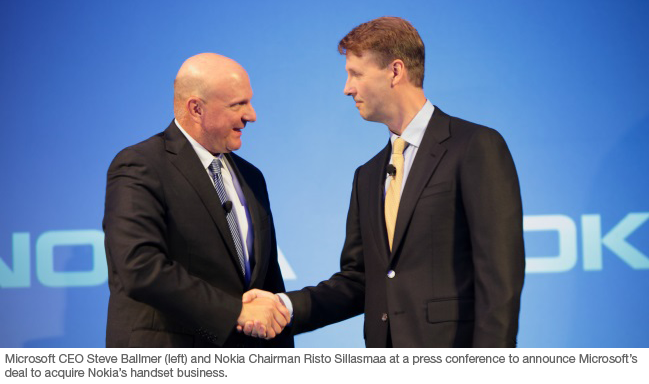 Speculation about a pending deal had been circulating since Nokia said it would Nokia would adopt Windows Phone as its principal smartphone operating system as part of an agreement between the two companies announced at the Mobile World Congress in February 2011.
Microsoft had reportedly been in talks with Nokia to acquire the firm's handset business for several months. Two months ago the Wall Street Journal reported that talks between Microsoft and Nokia had broken down after the firms failed to agree on a purchase price.
According to Wayne Lam, a senior analyst for wireless communications at IHS, Microsoft needed to made a drastic move to ensure the ongoing viability of Windows Phone. According to Lam, Windows Phone had only about 3 percent market share among smartphone operating systems last year, a number he expects to rise to about 4 percent this year (IHS projects that Windows Phone's market share will be just 5 percent in 2017). Lam said Nokia is the only handset OEM that uses Windows Phone in a significant percentage of its products.
Since the 2011 agreement between Microsoft, the goal of both companies has been to establish Windows Phone as a viable competitor to Google's open-source Android operating system and Apple's proprietary iOS, a strategy which has been largely unsuccessful, Lam said.
"The facts are, that just hasn't been the case," Lam said. "The only OEM that was fully vested in [Windows Phone] was Nokia."
According to IHS's Mobile Handset Tracker, Android and iOS are expected to have a combined market share of more than 90 percent of smartphone operating systems this year. In the second quarter of this year, Nokia shipped just 7.4 million Windows Phones while worldwide more than 31.2 million iPhones and 185 million Android smartphones were sold during the same period, according to IHS.
"They are obviously trying to sell this and put a good light on it, but it is what it is: a play for the survival of the [Windows Phone] platform," Lam said.
Lam said Nokia's market capitalization has declined from about 32 billion in euro at the time of the Windows Phone deal in 2011 to about 14 billion euro as of last week.
According to Ian Fogg, senior principal analyst for mobile media at IHS, the deal represents a "high risk but high potential reward strategy" for Microsoft. In a report circulated just after the deal was announced, Fogg said Microsoft CEO Steve Ballmer—who recently announced plans to retire within 12 months—is locking Microsoft and his successor into the devices and services strategy he announced last year by buying one of Microsoft's key hardware partners.
To succeed in making Windows Phone a viable competitor to Android and iOS, Microsoft must increase the quality and quantity of third party Windows Phone apps, according to Fogg. Microsoft "must spend tremendously on marketing and channel incentives to drive Windows Phone awareness with consumers and ensure Windows Phones are widely ranged by mobile operators," he wrote.
With Microsoft becoming a direct competitor, other smartphone OEMs who make handsets with Windows Phone—such as HTC, Samsung and Huawei—could wind down those activities, Lam said. He noted that when Google acquired Motorola Mobility last year for $12.5 billion, some feared that other handsets OEMs would stop supporting Android, but that Android was entrenched and had too much momentum. But Windows Phone makes up only a small fraction of other OEMs' shipments, he added.
Microsoft said it expects the transaction, which remains subject to shareholder and regulatory approval, to close by the first quarter of 2014. At the close of the transaction, Microsoft said it expects about 32,000 employees to transfer from Nokia to Microsoft, including 4,700 people in Finland and 18,300 employees directly involved in manufacturing, assembly and packaging of products worldwide.
Among the employees that will transfer to Microsoft is Elop, who stepped down as Nokia president and CEO when the deal was announced to become executive vice president of Nokia's Design and Services business. "With this combination of talented people, we have the opportunity to accelerate the current momentum and cutting-edge innovation of both our smart devices and mobile phone products," Elop said through a statement.
The portion of Nokia that Microsoft is buying generated an estimated 14.9 billion euro (about $19.6 billion) in sales last year, roughly 50 percent of Nokia's total sales. "In addition to their innovation and strength in phones at all price points, Nokia brings proven capability and talent in critical areas such as hardware design and engineering, supply chain and manufacturing management, and hardware sales, marketing and distribution," Ballmer said through a statement.
Fogg said the deal provides Nokia with a welcomed escape from the handset business. He said Elop's 2011 decision to adopt Windows Phone appears in hindsight to have been a mistake because Nokia has struggled to ship Windows Phones in volume. "And, while Nokia expected it would be impossible to differentiate handset designs using Android, its handset maker rivals have successfully built sophisticated user interfaces and custom apps on top of Android that makes a Samsung smartphone feel very different to one from HTC or Sony," Fogg wrote.
Following the transaction, Nokia said it plans to focus on its three remaining established businesses: network infrastructure and services, its HERE mapping and location services business and technology development for the purpose of licensing.
"After a thorough assessment of how to maximize shareholder value, including consideration of a variety of alternatives, we believe this transaction is the best path forward for Nokia and its shareholders," said Risto Siilasmaa, Nokia's chairman, who became interim CEO of the company following the announcement.