Integrated-motor suppliers offering the compact motor type with built-in electronics can look forward to a 40 percent increase in total market revenue by 2017, even though growth as a whole appears to be moderating, according to IHS.
Revenue for the integrated-motors market is projected to reach $553 million by 2017, up from less than $400 million in 2012. Brushless motors currently lead the way in growth, as shown in the attached figure, with more than 70 percent of additional market revenues from 2012 to 2017 expected to come from the sales of AC brushless servo and DC brushless integrated motors. For perspective, these products represented only 56 percent of market revenues in 2012.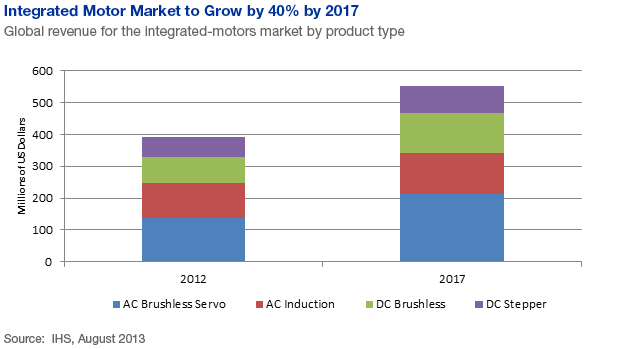 Overall market growth last year, however, was limited by the recession in Europe, which accounted for 65 percent of total market revenue in 2012, noted the recently published report entitled "Integrated Motors – World– 2013." Business will remain tepid this year, after which higher growth is expected from 2014 to 2017 as the market expands at more than 7 percent each year.
Despite the rise, projected growth rates remain below historical levels. IHS has tracked the integrated-motor market for more than a decade, and yearly growth rates in the past have averaged in the double digits. In particular, the market rose by more than 300 percent between 2002 and 2011.
"With a much higher global market size, the amount of revenue gained in the market each year would have to increase significantly for the historical growth rates to be maintained, and this has not occurred," explains Michelle Figgs, motor controls and switchgear analyst at IHS. "Still, integrated motors continue to take share away from traditional motor and drive solutions, and motor suppliers are increasingly recognizing the importance of including an integrated-motor option in their product portfolios to prevent loss of market share."
A high growth area for AC brushless servo integrated motors is the packaging industry, as the motors reduce costs associated with cabling and central cabinets for large machines with numerous axes in the low- to mid-power range. "Another advantage of integrated motors is their compact size, which is particularly beneficial in mobile applications like automated guided vehicles (AGVs)," Figgs added. "The increased use of AGVs to transport materials in distribution centers and hospitals, in turn, is driving growth in the market for DC brushless integrated motors."
Meanwhile, revenue from the sale of AC induction integrated motors is also increasing, although at a slower rate than the other product types.
"AC induction integrated motors were the second-largest product type in 2012, accounting for 28.2 percent of total market revenue, but the transition from traditional motor and drive products in AC induction applications continues to be a slow one," Figgs noted. Even so, phase 3 of the Energy-related Product (ErP) directive is expected to boost sales in this market in the Eurozone starting in 2017. The ErP is a framework for establishing minimum design requirements for energy-using and energy-related products.
Prospects for the integrated-motor market remain positive going forward, despite a market contraction in 2012 and limited growth this year Total market revenue is forecast to expand at an average annual rate of 7.1 percent from 2012 to 2017, with AC brushless servo and DC brushless integrated motors leading the space in growth, while sales of DC stepper and AC induction motors rise at a rate below the market average.