DigiKey, a global commerce distributor offering the largest selection of technical components and automation products in stock for immediate shipment, announced that direct shipments from European suppliers to European customers are available through DigiKey's Marketplace program.
The environmental and cost savings are realized when products do not have to be shipped to the U.S. facilities in order to be shipped back to Europe, eliminating costly shipping prices, additional time and impact on the environment due to shipping. Shipments sent within Europe will typically arrive the next day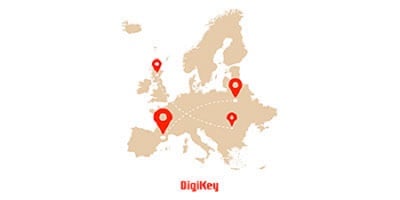 European businesses in DigiKey's Marketplace now have the capability to expand their outreach into other European countries. Source: DigiKey rather than the previous speed of a couple of days.
With products not needing to be shipped outside of Europe, more types of products are able to be sold including lithium batteries, heavy automation equipment, chemicals and adhesives, solar products and more.
Currently about 30,000 SKUs are eligible for this program, with more being added daily. DigiKey still handles the entire transaction, meaning customers still get to enjoy the world class customer service as DigiKey stands behind every order.
The company also continues to expand the diversity of its products and suppliers in new product categories in DigiKey Marketplace, a single source for all aspects of technology innovation, including bare PCB boards, industrial automation, test and measurement, internet of things solutions and virtually all things related and adjacent to technology innovation, all through a singular shopping experience.