Alliance Memory has expanded its offering of high-speed complementary metal-oxide-semiconductor mobile low-power synchronous dynamic random-access memory (SDRAMs) with four new low-power double data rate (LPDDR)4X devices in a variety of densities. Offering an extension to the company's fourth-generation LPDDR4 SDRAMs, the 2Gb AS4C128M16MD4V-062BAN, 4Gb AS4C256M16MD4V-062BAN, 8Gb AS4C512M16MD4V-053BIN, and 16Gb AS4C512M32MD4V-053BIN deliver ~50% lower power ratings in the 200-ball fine-pitch ball grid array (FBGA) package for higher power efficiency.
With low-voltage operation of 0.6 V — compared to 1.1 V for LPDDR4 SDRAMs — these devices increase battery life in portable electronics for the consumer, commercial and industrial markets, including smartphones, smart speakers, security surveillance systems and other internet of things (IoT) devices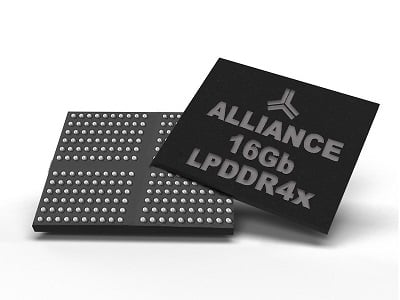 Source: Alliance Memory utilizing artificial intelligence (AI) and 5G technologies. Providing increased efficiency for advanced audio and ultra-high-resolution video in embedded applications, the LPDDR4X SDRAMs deliver fast clock speeds up to 1.86GHz for extremely high transfer rates of 3.7Gbps.
For automotive applications — including advanced driver-assistance systems — the AEC-Q100-qualified AS4C128M16MD4V-062BAN and AS4C256M16MD4V-062BAN offer a temperature range of -40° C to +105° C and on-chip error correction codes for increased reliability. The AS4C512M16MD4V-053BIN and AS4C512M32MD4V-053BIN operate over an industrial temperature range of -40° C to 85° C.
The AS4C512M16MD4V-053BIN, AS4C128M16MD4V-062BAN and AS4C256M16MD4V-062BAN are organized as single-channel devices — each consisting of eight banks of 16 bits — while the AS4C512M32MD4V-053BIN offers two channels. All four components provide fully synchronous operation; programmable read and write burst lengths of 16, 32 and on the fly; and selectable output drive strength. An on-chip temperature sensor controls the self-refresh rate.
Alliance Memory's LPDDR4X SDRAMs provide reliable drop-in, pin-for-pin-compatible replacements for numerous similar solutions in high-bandwidth, high-performance memory system applications, eliminating the need for costly redesigns and part requalification.