The testing and validation of electronic devices has become more complicated as the devices themselves have become more complex. The ongoing demand for faster data rates has also increased the amount of time needed to validate new technologies, putting a strain on the resources of engineering teams and causing delays in time-to-market cycles.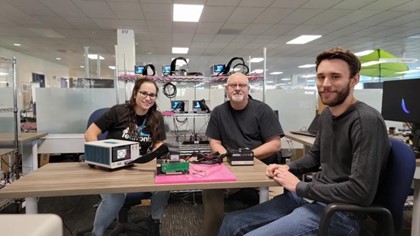 The development of the TMT4 Margin Tester took nearly two years and "countless hours" collaborating with customers. Seen above is the company's Margin Tester team. Source: Tektronix Inc.If you're a regular reader of Electronics360, this probably isn't news to you. But the backstory of the test and measurement (T&M) equipment industry's response to these challenges may not be as familiar; in its online blog, test and measurement solutions provider Tektronix recently gave some insight into the development of the TMT4 Margin Tester, a product we first reported on last November. The journey is described as taking nearly two years and "countless hours" collaborating with customers.
According to Tektronix, the original idea for the product was developed in the Fortive Growth Accelerator program, which encourages company and product growth by identifying customer problems, developing solutions and testing uncertainties and risks to enable learning and decision-making. In January 2021, the Growth Accelerator team had identified the problem, developed concepts and set out to gather the internal team members to help to bring a solution to life.
Once the team had a viable prototype, it began soliciting feedback from select customers to be incorporated into the product. These were returned in the form of updated demos within a matter of "a few short months," the blog said, to ensure that concerns were being addressed. This is also intended to be an ongoing process of refinement, as the team will continue gathering and incorporating customer feedback into future updates of the TMT4.
The blog also offers some insight into the features and benefits in which customers have so far expressed the most interest, including simple setup and configuration, multilane testing capabilities, visibility of link training parameters, and others.
Tektronix said that the TMT4 Margin Tester has the potential to fundamentally change how validation engineers do their work, noting that continued customer partnerships are the key to making that change. "With consistent collaboration and constant iteration, we can ensure that this solution lives up to its potential to help engineering teams get their products to market faster than ever," the company says.