Lanner Electronics, a global provider of network appliances and edge artificial intelligence (AI) systems, vendor-neutral hybrid edge compute solutions provider Telco Systems, and CVEDIA, a leader in edge computer vision software, formed a partnership to demonstrate a next-generation, smart retail solution based on advanced edge computing supporting AI acceleration on a small form-factor edge device. The solution will be available for viewing at the Integrated Systems Europe exhibition (Booth #5A200) in Barcelona, January 31 through February 3, 2023.

The companies have partnered to demonstrate Telco Systems' Edgility platform for edge computing on top of a compact edge AI appliance IIoT-I530 powered by Lanner to efficiently process computer vision AI tasks such as object detection and image classification using CVEDIA's video analytics technology. The simple to onboard, unique workload includes computer vision AI based analytics applications connected to an intelligent edge computing platform with integrated SD-WAN that can span thousands of customer sites, on top of a compact edge device, capable of delivering real-time AI insights at the edge.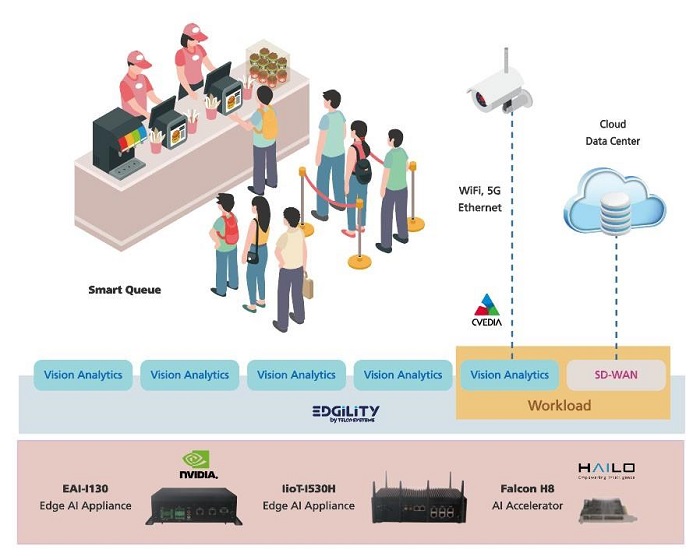 Source: Lanner Electronics/Telco Systems/CVEDIA

The solution establishes how edge computing can be used to analyze and act upon real-time video data, without relying on connectivity or extensive processing in the cloud, and with a no-code, DevOps-less approach that enables retailers to easily install and integrate AI technology to their existing SD-WAN infrastructure, while reducing complexity and costs. This can be particularly useful in a wide range of industries such as retail, transportation and manufacturing, where cloud connectivity is not guaranteed, and real-time insights and low-latency decision-making are critical.

The companies will demonstrate multiple AI-based video analytics applications, including a video camera streaming to an AI-based software that applies the AI model to the video for a specific inference (e.g., smart shelf), with the outcome sent for additional processing (e.g., trend analysis). These applications produce a huge amount of live video-based data in real time, making edge computing the most efficient way to implement these use cases.
This groundbreaking solution for edge computing with computer vision AI on a compact edge device highlights the potential for edge computing to revolutionize a wide range of industries by providing real-time insights and low-latency decision-making through the use of advanced AI and machine learning technologies.