Emerson will showcase Branson welding equipment and automated solutions for plastics joining and mold cleaning, in addition to ASCO miniature valve technologies for fluid control, at the MD&M West trade show being held February 7-9, 2023, at the Anaheim Convention Center in Anaheim, California.
The products and technologies on display highlight Emerson's deep understanding of the needs of medical device manufacturers, ensuring the highest levels of accuracy, reliability and purity in manufacturing and full compliance with medical device regulations. The ASCO fluid-control portfolio is uniquely designed to address the speed, specificity and exceptional quality demanded by leaders in the analytical and medical world. Branson plastic joining solutions simplify assembly and reduce the number of device components. Both Emerson brands have vast technical applications experience and a global footprint with local engineering teams to support product design.
Product highlights will include:
Branson ultrasonic cleaning for injection molds
The Branson ultrasonic mold-cleaning system increases efficiency dramatically compared to traditional cleaning methods. The noncontact system uses cavitation, or the rapid formation and collapse of minute bubbles in a cleaning solution, to dislodge soils and contaminants from the mold surfaces, making it ideal for close-tolerance medical-device tooling. Side-mounted immersible ultrasonic transducers convert electrical energy to sound energy to achieve high levels of cleanliness that, in turn, result in better part release, improved productivity and reduced scrap and waste.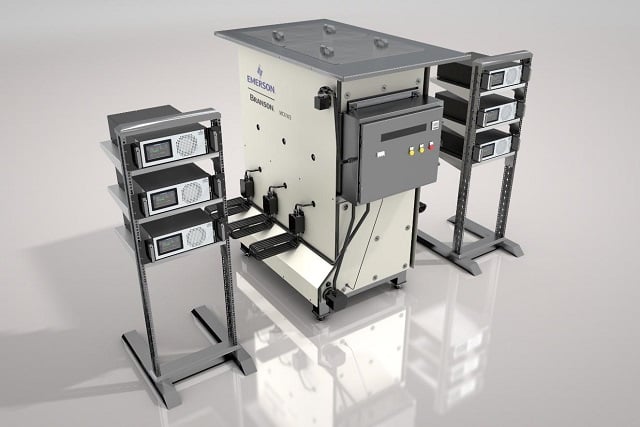 Source: Emerson
Branson GL-300 laser welder
This laser welding platform can be quickly and cost-effectively adapted to changing production demands. The highly flexible, quasi-simultaneous plastic joining solution was designed to deliver efficient high-quality welds in a wide range of applications, while cost-effective and easy-to-change tooling enables faster setup and adjustment for changing product specifications. Manufacturing capabilities are further enhanced by a range of unique features including a high-quality scanning system, easy-to-use human-machine interface, large (300 mm x 300 mm) weld area, multiple weld modes, variable spot size as low as 0.5 mm and an adjustable laser power source height.
ASCO series 090 miniature valves
This line of miniature solenoid valves is designed for use with air and inert gases. Their compact, lightweight architecture and low power consumption make the ASCO series 090 ideal for portable medical devices. The valves' exceptional service lifetime of over 50 million cycles significantly increases original equipment manufacturer instrument reliability. Typical applications include oxygen-delivery and compression-therapy devices and gas analyzers.
ASCO series 062 rocker isolation valves
ASCO series 062 rocker isolation valves are designed for use with neutral or highly aggressive liquids in clinical diagnostic and laboratory instruments. The isolating diaphragm prevents heat transfer, and the special rocker mechanism has easy-to-flush and low-volume internal cavities. The valves' 16 mm size and both two-way and three-way functions make them interchangeable with most other 16 mm isolation valves in the market. Typical applications include in-vitro diagnostics, hematology, DNA sequencing and industrial liquid analyzers.