Power and thermal management solutions provider Delta Electronics has introduced the new Delta Breez Rio Vista and Pleasanton ceiling fan series, providing year-round comfort solutions for home and business. The ceiling fan pulls cool air from the floor to the ceiling in the summer and circulates warm air rising to the ceiling back down to the floor in the winter. Recognized as ENERGY STAR Most Efficient, they provide smooth start-up, quiet operation, low vibration, and uniform multi-speed airflow for a great user experience.
The Rio Vista and Pleasanton series are up to 70% more energy efficient compared to similar AC motor products. The smooth start-up and quiet operation are enhanced by a brushless DC motor, which provides even airflow across the entire room. A hand-held remote allows adjustment of preferred settings, and six fan speeds plus a reverse function are included, while a 20 W LED light module provides up to 1,500 lumens of bright light.

According to the company, these fans work best when used in conjunction with a Delta Breez Fresh Air Supply Fan and ventilation fan to create a perfectly balanced ventilation system and a healthier indoor environment.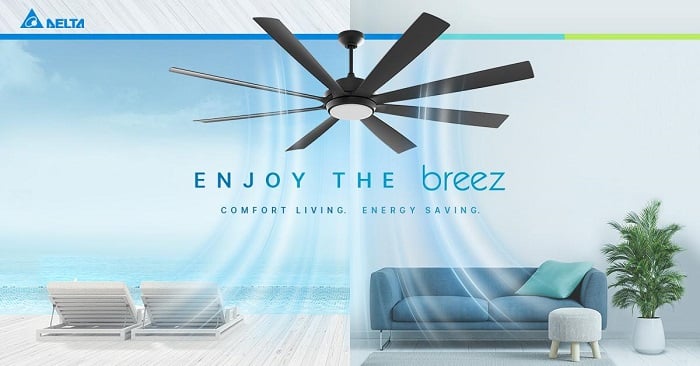 Source: Delta Electronics

The Rio Vista (eight-blade) and Pleasanton series (five-blade) are available in optional black or white, 60 inch or 72 inch diameter, and can be installed in indoor and outdoor locations such as a patio or lanai. Light commercial applications include restaurants, offices, hotels and resorts.