Wexxar Bel, a ProMach brand, is demonstrating several of its case and tray forming packaging solutions in booth N-5446 at PACK EXPO 2022, October 23-26, at McCormick Place in Chicago.
Starring at this year's show is the BEL 5150E automatic adjust semi-automatic case former with the Smart Select system, as well as the BEL 5150U V2 semi-automatic form pack and seal system, the BEL 252 fully automatic case sealer and the BEL 505 V2 semi-automatic case forming pack station.
The BEL 5150E is the first semi-automatic case forming, packing and sealing solution with auto adjust case size changeover designed primarily for low to mid-speed e-commerce applications. Servo motors are integrated into all three changepoints to allow for a quick and automated size change. Pack-cell design has recently been redesigned with inline product delivery and pick to light case access to minimize operator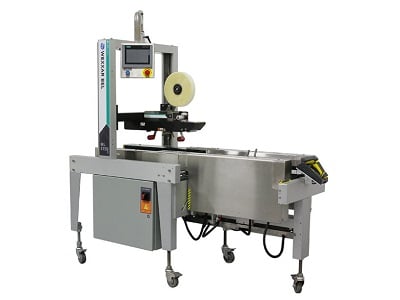 Source: Wexxar Bel motion and increase throughput.
Wexxar Bel will also be showcasing the BEL 5150E's incorporation of Smart Select, a software designed by MagicLogics, which integrates with the customer's warehouse management software to automatically calculate the most optimal case for every order, displays the optimal pack pattern for the operator and automatically adjusts the BEL 5150E system as the operator begins packing. This takes the case size decision away from the operator, minimizing shipping costs while also reducing packing materials cost and reducing the chance for product damage.
The BEL 252 is a fully automatic uniform case taper that offers high performance and significant value. With an ultra-compact design, the versatile BEL 252 can fit in most applications and can be combined with other Wexxar Bel products to create a complete form, pack and seal system.
The BEL 505 V2 is the latest iteration of the popular BEL 505. Newly improved features in this product include redesigned semi-automatic formers that reduce air consumption by 27%, further reduction of corrosive metals in the machine assembly to include more stainless steel and aluminum and simplified components for ease of maintenance and operation.
The BEL 5150U V2 is a compact and economical form, pack and seal all-in-one solution that holds the formed case in place as the operator ergonomically packs it with both hands, ensuring ease and efficiency. This latest iteration takes improvements from the BEL 505 V2 and further improves on them in an all-in-one packaging system.
Plan to visit Wexxar Bel in booth No. N-5446 at PACK EXPO 2022 to learn what these products and more can do for packaging projects.