During the Cold War between the U.S. and the Soviet Union, a so-called arms race emerged between the two countries to increase the size and quality of military resources. The goal was to gain military and political superiority over one another and use those resources to expand influence in the world. While it certainly wasn't the first arms race in history, it was likely the largest and most expensive.
The U.S. and some of its allies are exploring a new arms race but with technology, specifically semiconductors that are now used in everything from smartphones to automobiles to military equipment.
The U.S. has deemed semiconductors as essential to national security and has taken steps to protect semiconductors and other technology from being used by foreign competitors: namely China.
Additionally, due to the recent chip shortage, the U.S. has taken greater interest in developing domestic semiconductor production to make the supply chain more resilient and not centrally dependent upon manufacturers in Taiwan and Korea.
Export restrictions
In mid-August, the U.S. Bureau of Industry and Security (BIS) formally announced it would ban four major semiconductor technologies for export. These include:
Two substrates of ultra-wide band gap semiconductors — gallium oxide and diamond
Electronic computer-aided design (ECAD) software for the development of ICs with gate-all around field effect transistor (GAAFET) structures
Pressure gain combustion (PGC) technology
According to market research firm IHS Markit, these technologies have a clear dual-use aspect with commercial and military applications.
These restrictions on exports come after the BIS under the Trump Administration blacklisted Huawei and its affiliates from receiving technology exports for certain semiconductors. The move makes it extremely difficult, if not impossible, for U.S. firms to do business with Huawei.
The Trump Administration believed that using devices or equipment from Huawei may be a threat to national security because of the ties the company has to the Chinese government, stoking fears that the equipment may be used to spy on national interests or consumers if used. However, it was also a way to cripple one of the largest electronics companies in the world, preventing it from getting the technology it needed for growth, thereby making this one of the initial steps in America's escalation in the semiconductor arms race with China.
SMIC hit hard
In 2020, the BIS also imposed similar export restrictions on the Semiconductor Manufacturing International Corp. (SMIC), China's largest foundry. The U.S. ban on SMIC led to the foundry beginning to develop its domestic chip equipment while expanding mature process technologies at 28 nm and above.
According to market research firm TrendForce, if China can upgrade its domestic equipment, it would become independent of U.S.-affiliated manufacturers. The country and SMIC are not at that level yet, mostly due to U.S. manufacturers controlling key aspects of chip processing machines.
The move for China to look to develop its own semiconductor equipment comes after news of the U.S. government further restricting sales of chip equipment, specifically gear that can fabricate chips at the 10 nm or better manufacturing processes.
Lam and KLA Corp. confirmed that they had been notified by the U.S. government on the new restrictions on semiconductor equipment to China.
The efforts to thwart Chinese development may expend further as well as U.S. senators are trying to place similar restrictions on Yangtze Memory Technologies Company (YMTC) in China, claiming it is an immediate threat to national security and U.S.-based chip companies.
Domestic growth
America's export control efforts are simultaneously happening as the government looks to bolster domestic semiconductor manufacturing with the release of the CHIPS and Science Act, which was signed into law by President Biden in August.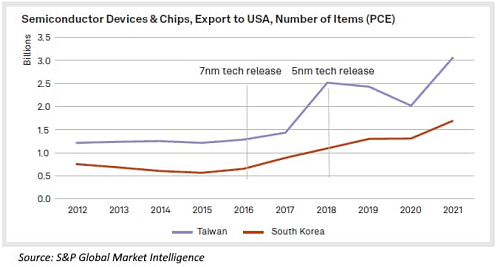 The number of semiconductors that are exported to the U.S. from Taiwan and South Korea. Source: IHS MarkitThe CHIPS Act gives $52 billion in incentives and tax breaks to companies looking to build new chip fabs in the U.S. The documentation said semiconductors and semiconductor manufacturing is a long-term national security and economic competitiveness priority.
Currently, only 12% of all semiconductor manufacturing is done in the U.S. If the situation does not change, it will decline to 10% in the coming decade, according to the Semiconductor Industry Association (SIA). In 2021, 54% of semiconductors were produced by American companies.
The CHIPS Act is set to position American manufacturing into advanced 5 nm and 3 nm transistor process technologies, an area the country lags Japan, Taiwan and South Korea. Additionally, it will help retain leadership in military and defense systems such as satellites, aircraft and missiles, IHS Market said.
Already, Intel Corp. has broken ground on two new fabs in Ohio due to the CHIPS Act funding and Micron Technology has pledged to build the first new memory fab in America in the last 20 years.
Conclusion
While America looks to curb the advancement of Chinese technology gains on one hand, on the other hand it is looking to capture semiconductor manufacturing capacity to stabilize the supply chain in case a future geopolitical event or future pandemic impacts its supply of chips.
This semiconductor arms race is likely to continue as Taiwan and South Korea are ramping their own semiconductor manufacturing goals and China is in the process of building its own equipment for future semiconductor manufacturing.
However, in the short term, the U.S. will still be dependent on chips from these same countries it is looking to compete with as it does not have the capability to manufacture existing 7 nm or 5 nm, let alone 3 nm that will be coming in the next few years.
This means America will still need to rely on Taiwan Semiconductor Manufacturing Co. (TSMC) and Korea's Samsung Electronics for national security until it ramps up its own processes.