New Yorker Electronics will be distributing the full line of Adam-Tech rocker switch offerings in medium, miniature and even subminiature sizes in round or rectangular types. These rocker switch types are offered with various termination options, circuits, functions and actuators.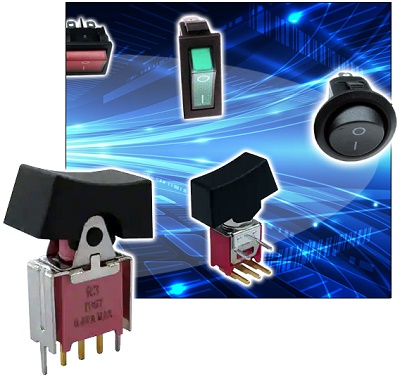 Source: New Yorker Electronics
Used primarily in telecommunications, medical and industrial equipment, the Adam-Tech specialized sealed rocker versions are also available in IP67. Standard and LED lighted actuators are available in multiple colors, shapes and actuator markings. Termination options consist of solder, PCB vertical, PCB R/A, screw lugs and 4.80 mm and 6.35 mm QC and circuit options include SPST, SPDT, DPST and DPDT. Optional switch functions include: ON-ON, ON-OFF, OFF-(ON), ON-OFF-ON and (ON)-OFF-ON.
Applications for these rocker switches include computer hardware, power supplies and battery chargers, instrumentation, household appliances, telecommunications, medical equipment and industrial equipment.