New Yorker Electronics has announced Vishay Dale's release of the new IHDM Series of edge-wound, through-hole inductors with an 1107 case size. The Vishay IHDM-1107BBEV-20 and IHDM-1107BBEV-30 inductors are ideal for DC/DC converters, inverters, differential mode chokes and filters for motor and switching noise suppression in high current, high temperature applications, including industrial, medical and military systems. The inductors are available with a selection of two core materials for optimized performance depending on the application.
The IHDM series features a powdered iron alloy core technology with soft saturation current to 422 A, providing stable inductance and saturation over a demanding operating temperature range, with low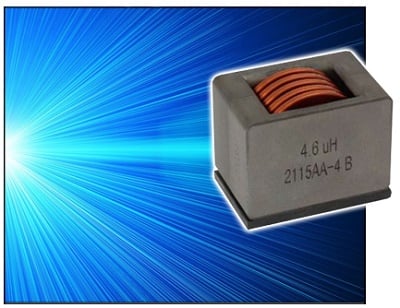 Source: New Yorker Electronics power losses and excellent heat dissipation. The edge-wound coil provides low DC resistance (DCR) down to 0.25 mΩ, which minimizes losses and improves rated current performance for increased efficiency. Compared to competing ferrite-based solutions, the IHDM-1107BBEV-20 and IHDM-1107BBEV-30 offer 30% higher rated current and 30% higher soft saturation current levels that are stable at continuous operating temperatures to 180° C. The inductors' soft saturation provides a predictable inductance decrease with increasing current, independent of temperature.
Standard terminals for the IHDM-1107BBEV-20 and IHDM-1107BBEV-30 are stripped and tinned for through-hole mounting. Vishay can customize the devices' performance — including inductance, DCR, rated current and voltage rating — through New Yorker Electronics. Customizable mounting options include bare copper, surface-mount and press fit. To reduce the risk of whisker growth, the inductors feature a hot-dipped tin plating. The devices are RoHS-compliant, halogen-free and Vishay Green.