The U.S. Nuclear Regulatory Commission (NRC) will issue the final rule that certifies NuScale's small modular reactor (SMR) design for deployment in the U.S. The reactor is the first SMR design to be certified by the agency.
As shown in the schematic, the SMR design uses natural, passive processes such as convection and gravity in its operating systems and safety features. The 12 modules, submerged in a safety pool built below ground level, produce up to approximately 600 MW of electricity. The advanced light water reactor is designed to passively cool itself without the need for additional water, power or operator action. This safety feature could lead to a reduction in the emergency planning zone to the site boundary and shrink the footprint of the power plant. The NuScale plant is also designed to shut itself down safely in an emergency without any operator input or power requirements.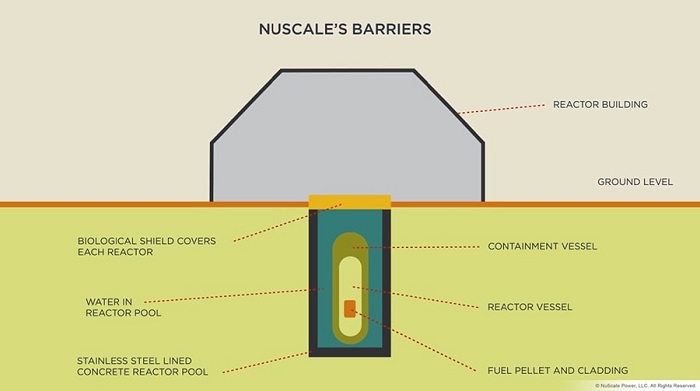 Source: NuScale
The first NuScale power plant is scheduled to begin generating power in 2029 as part of the Carbon Free Power Project, with all modules due to come online in 2030 at the U.S. Idaho National Laboratory.
Discover more about nuclear power technology and engineering on GlobalSpec.com.