As the pandemic's grip on the nation fades, in-person trade shows are making a comeback. For test and measurement engineers and vehicle enthusiasts alike, these upcoming automotive industry trade shows — all located in or around Detroit, Michigan — are worth consideration.
The Battery Show and
Electric & Hybrid Vehicle Technology Expo
Sept. 13-15, 2022
Suburban Collection Showplace, Novi, Michigan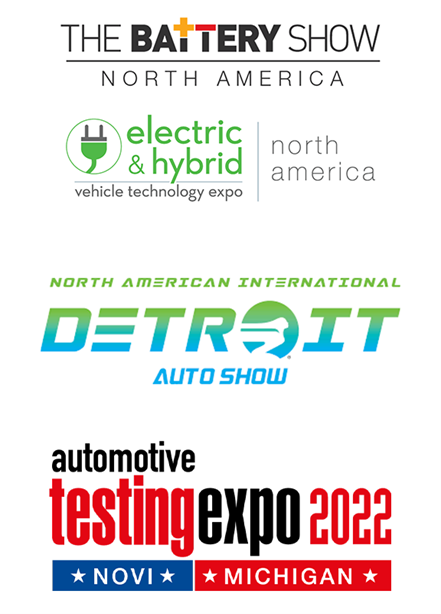 Automotive industry trade shows are coming to the Detroit area in September and October, 2022. Sources, top to bottom: Informa Markets; NAIAS; UKi Media & EventsBilled as the largest battery and electric vehicle (EV) technologies trade show in North America, the co-located Battery Show and EV Tech Expo events bring together engineers, business leaders, top-industry companies and innovative thinkers to discover groundbreaking products and create powerful solutions for the future. According to the expo website, the event hosts over 10,000 attendees, over 750 suppliers and over 150 speakers. Expo passes can also be upgraded to access four different tracks of technical education plus post-event, on-demand conference content.
The North American International Auto Show
Sept. 14-25, 2022
Huntington Place, Detroit, Michigan
This one's not just for engineers and technicians! The 12-day extravaganza also known as the Detroit Auto Show is billed as one of the most influential annual automotive events in the world and a showcase for emerging technologies. This year's show promises a totally transformed indoor and outdoor experience, and it offers specially designated Industry Tech Days (Sept. 14-15) with an inside look at emerging mobility platforms prior to the opening of the public show. More info is available on the show website.
Automotive Testing Expo
Oct. 15-27, 2022
Suburban Collection Showplace, Novi, Michigan
Billed as the world's leading international expo for every aspect of automotive testing, development and validation technologies, this event is focused on the testing of advanced driver assistance systems (ADAS) and autonomous vehicles, electric and hybrid powertrains, batteries and range, electromagnetic interference (EMI), and noise, vibration and harshness (NVH), along with the full spectrum of test and validation technologies for vehicle, component and systems development. The American edition of the Automotive Testing Expo returns to a full-capacity, full-size show for 2022, and according to the expo website, over 350 exhibitors will be on hand displaying their latest products and services. A technology presentation stage will also run alongside the exhibition.