Battery-powered electric vehicles (BEVs) have become the primary focus of the automotive industry since the introduction of the Nissan Leaf (2010) and Tesla Model S (2012).
In China, 3 million BEVs were sold in 2021, up from 1 million the previous year, and in the U.S., the number of models available for sale is expected to double by 2024. Fuel cell electric vehicles (FCEVs) produce no emissions and are powered by a hydrogen fuel cell instead of a battery.
The most essential difference between these two technologies is that a lithium-ion battery stores energy which it then uses, whereas a fuel cell generates and supplies energy by converting available hydrogen. Most automakers have shifted their focus toward BEVs, largely as a result of hydrogen efficiency issues and a limited number of refueling stations.
Discover more about lithium battery technology and suppliers on GlobalSpec.com.
In terms of maximum range, the best FCEV (Toyota Mirai) was rated by the U.S. Environmental Protection Agency for 402 miles, while the best BEV (Lucid Air) received 505 miles. According to the U.S. Department of Energy, there are just 48 hydrogen stations across the U.S., with 47 located in California and one in Hawaii.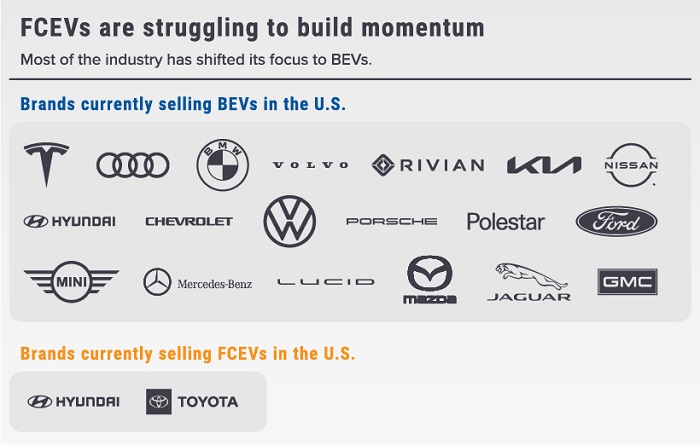 Source: Electronics360 News Desk
Find information on fuel cell systems and manufacturers at GlobalSpec.com.
By contrast, 49,210 charging stations service BEVs nationwide; these vehicles can also be charged at home.