Texas Instruments (TI) remained in the top spot as the leading supplier of analog devices in 2021 with sales of $14.1 billion and 19% market share, according to new data from IC Insights.
TI's analog sales jumped nearly $3.2 billion in 2021, or about 29% growth, compared to 2020. Analog sales accounted for 86% of its $16.3 billion in IC sales and 81% of its $17.3 billion semiconductor revenue.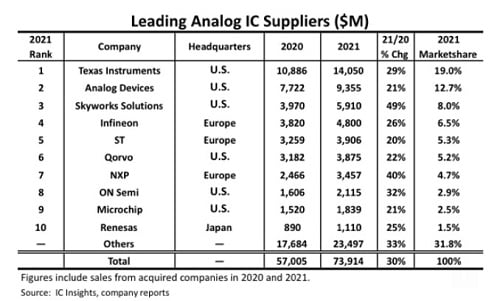 The top 10 analog suppliers on 2021 revenues. Source: IC Insights Among other analog companies in the top 10, six of them are based in the U.S., three are in Europe and one is based in Japan. Collectively, the top 10 companies accounted for $50.4 billion in analog IC sales, which represented 68% of the total analog market.
Second in the rankings was Analog Devices Inc. which saw its analog sales increase 21% to $9.4 billion. ADI completed its $28.9 billion acquisition of Maxim Integrated in August 2021.
Ranked third in 2021 with analog sales of $5.9 billion was Skyworks Solutions, which jumped 49% in revenue and was the largest growth increase among the top analog suppliers. Skyworks acquired the Infrastructure and Automotive business of Silicon Labs for $2.75 billion to accelerate the expansion of electric and hybrid vehicles, 5G and other communication businesses.
Fourth ranked Infineon had sales of $4.8 billion in 2021, followed by ST Microelectronics and NXP Semiconductors.
Why analog is growing
According to IC Insights, analog chips remain a hot item because nearly all digital-centric systems need these semiconductors as a critical component. Typically, the analog market grows (and declines) at a more tempered rate than the total IC market but in 2021 that didn't happen as the analog market grew by 30% last year, while the total IC market increased 26%.
Every general purpose and application specific analog product segment saw double-digit sales growth in 2021. Only signal conversion revenue grew 13% last year but revenue in every other analog IC category grew by at least 27%.