Christie, an industry leader in audio and visual technology, has released new details on its showcase plans for the upcoming Integrated Systems Europe (ISE) 2022 show.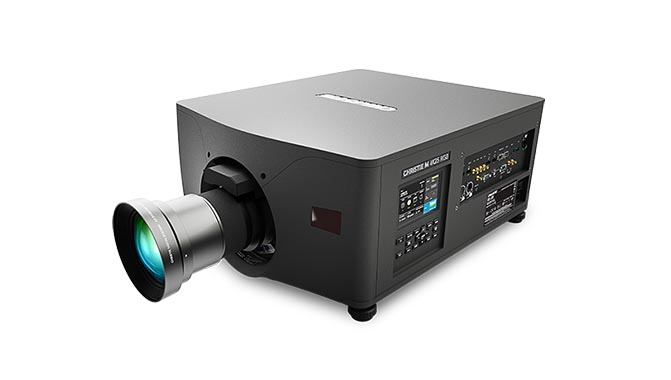 Two stacked M 4K25 RGB pure laser projectors will be among the lineup. Source: Christie Digital
The technology to be debuted includes stacked M 4K25 RGB pure laser projectors and MicroTiles LED, which will be used in tandem to create a show stopping projection-mapped logo with content managed by the firm's new Pandora's Box Version 8.6. Christie will also be previewing the 50,000-lumen Griffyn 4K50-RGB pure laser projector, which is planned to illuminate the rear booth screen to give visitors the full experience.
Another innovative distinction that Christie boasts: being the safest space at ISE. Patented Christie CounterAct disinfectant products will be active on the stand and are the first of their kind for use around other people, designed to continually and effectively deactivate pathogens.
Arlonna Seymour, executive director for corporate marketing said, "We are thrilled to once again be meeting partners and customers in person at ISE. Our latest innovations on show are a perfect complement to our existing product lineup, allowing partners to create visually compelling, effective integrated solutions." She added, "With Professional Services, we have another layer of support to help design, manufacture, deploy and support AV display systems, empowering partners to focus on creating the best experiences for their clients."
ISE will feature the industry's leading innovations and has previously hosted over 100,000 attendees. The annual four-day event is the world's largest AV and systems integrations show in the world and it is set to take place in Barcelona on May 10-13, 2022.