Football (or soccer) is not only the world's favorite pastime, but also a multi-billion-dollar industry. With so much at stake, coaches and scouts need to make the most informed personnel choices and keep their players on top condition. For the most advanced real-time empirical data, top European clubs rely on Anton Paar SportsTec skills.lab solutions. By combining complex algorithms with Teledyne FLIR cameras, skills.lab provides coaching staff with complete holistic views of a player's capabilities including detailed information to create individual training and recovery programs.
The skills.lab Arena is the world's most advanced interactive system for objective assessment and individual improvement of technical skills of soccer players. It provides coaching staff with complete and holistic views of a player's capabilities and provides information to create targeted individual training programs and monitor player development. The skills.lab Arena utilizes automated ball machines, 360° projection screens, state of the art measurement technology and data science to allow highly intense football training and in-depth data analyses. HD cameras as well as laser and positioning sensors in combination with complex algorithms deliver a variety of highly valuable data such as ball handling time and ball speed in real time.
When first prototyping the skills.labs Arena, the skills.lab machine vision specialist relied on the FLIR Blackfly cameras. These were later replaced by two more powerful cameras from the Teledyne FLIR product range: the Grasshopper3 and the Oryx. Altogether, there are five Grasshopper3 and six Oryx cameras around the skills.lab pitch. The 10GigE Oryx cameras are particularly well suited for collecting raw data for calculations due to their high resolution and frame rate. The Oryx cameras track the ball measuring speed and trajectory of the shot, while the Grasshopper3 cameras record the game and players from multiple perspectives for post-training analysis and live viewing.
Because of the fixed installation and controlled ambient light, the key factors in choosing the Grasshopper 3 and the Oryx for this application were for the pure performance data of the cameras, cost-effectiveness and the ease of software integration with the Linux operating system. Other critical system requirements include the ability to see long distances (up to 60 m) and the ability of the camera and lens mounts to withstand vibrations and flying soccer balls.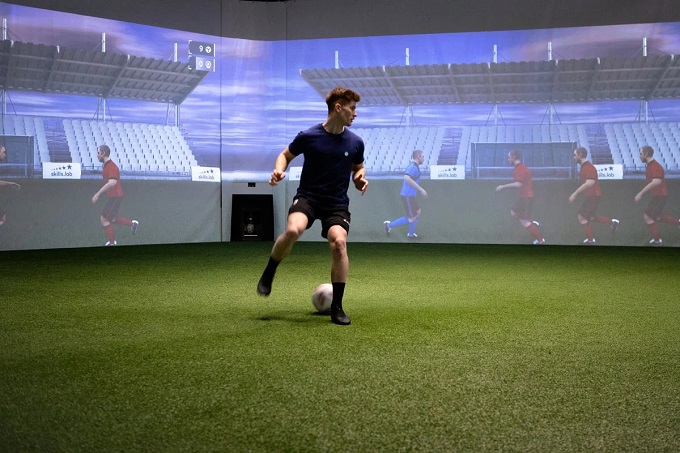 Source: Teledyne FLIR
"We have been using FLIR products for many years in our high-end football training systems," explained Dr. Johannes Tändl, general manager of Anton Paar SportsTec GmbH. "Besides the quality and performance of the products, the cameras have shown long-term maintenance-free functionality – a total must for us and our customers in professional soccer."
For comparing players, identical testing and training conditions worldwide enable empirical, data-driven player comparisons. Personal progress is also measured through targeted individual training for each player. Technical skills can be measured and trained in more than 60 interactive exercises. The training intensity can be varied; for example, more than 360 balls played in 60 minutes and different difficulty levels per exercise are possible. And after an injury, precisely designed rehabilitation workouts can shorten the players' time back onto the pitch. It is hardly surprising that leading European clubs rely on skills.labs solutions.