Demonstrating the latest innovations in ASCO valves and fluid controls and Branson laser-welding solutions for medical devices, Emerson Automation Solutions is exhibiting at the MD&M West 2022 tradeshow in Anaheim, California, April 12 to 14. Highlights in booth 3219 include:
Compact three-way valve for high-flow, precision gas control
The line of Emerson ASCO Series 090 miniature solenoid gas valves has been expanded to include a new three-way configuration that can perform the same mixing and diverting functions as a pair of two-way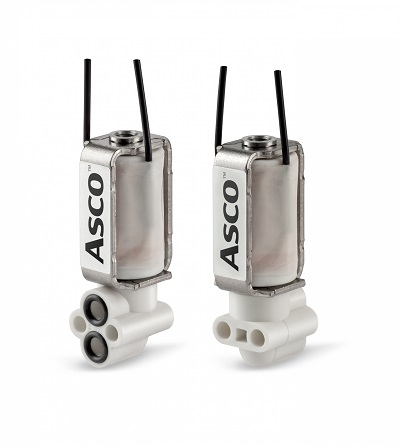 Source: Emerson valves. It further simplifies the design of small, high-precision gas delivery systems for oxygen therapy, compression therapy and gas analyzer devices, as well as home-care devices. Like all Series 090 valves, the new three-way unit features compact, lightweight architecture and low power consumption. It delivers precision control without sacrificing critical flow requirements. The Series 090 valves' exceptional service lifetime of over 50 million cycles significantly increases original equipment manufacturer device efficiency and reliability.
Fluid control solutions for dialysis machines
ASCO Series 284/384 two-way solenoid pinch valves are designed for use with highly aggressive or high-purity liquids in analytical and medical instrumentation, and sterile and aseptic systems. The aluminum-body, two-way valves are often used in dialysis equipment because they provide complete hermetic separation of the control mechanism and the fluid within the tubing to prevent particulate contamination caused by friction of moving parts and ensure maximum purity of liquids. Besides hemodialysis equipment, other typical applications include urinary collection and intravenous (IV) systems, and drug dispensing.
GSX platform introduces improved FDA 21 CFR Part 11 capability
Since its launch, the new GSX-E1 has proved to be the best ultrasonic welding solution for low-force delicate applications across the medical industry. The GSX's advanced electro-mechanical actuation system, coupled with its ergonomic user interface, gives customers the tools to achieve optimum weld results such as welder-welder repeatability (measured in microns) and zero production rejects, which ultimately saves customers time and money.

The GSX platform continues to expand its capabilities by giving customers the peace of mind that their production processes are aligned with U.S. Food and Drug Administration (FDA) regulations. The new GSX software release offers enhanced FDA 21 CFR Part 11 capability, improved welder security, data traceability, and best-in-class data retention of up to 200,000 parts per production batch, which is critical for medical customers. This software enhancement comes standard across the GSX-E1 product lines and is compatible with industry 4.0 and automated environments.
"Clear-on-Clear" laser welding opens new design options
A new process combines patented Branson Simultaneous Through-Transmission Infrared (STTIr) laser welding technology from Emerson with precision ultrasonic spray deposition technology from Sono-Tek to make laser welding of "clear-on-clear" plastic parts possible. This innovation offers new design possibilities for the makers of medical devices, drug delivery systems and in-vitro testing products.

Previously, laser-welded products were limited by the need to combine one "clear" or "transmissive" plastic part with a second "dark" or "absorptive" plastic part. The new process overcomes this limitation by precision-treating one of the clear mating parts with a bio-compatible laser absorber prior to laser welding. The use of the laser absorber means that the clear-on-clear welding capability can be a "bolt-on" upgrade to Branson laser welders that employ its STTlr technology.

The new process delivers cycle times measured in seconds, making industrial-scale laser welding of medical-quality clear-on-clear microfluidic parts economically viable for the first time. It also allows for a far greater range of clear thermoplastic parts to be bonded, regardless of chemistry. The laser-absorbing pigment dye so efficiently generates and conducts heat and melt that it can compensate for even large differences in the glass transition temperature (Tg) of different clear polymers used in mating parts.