American companies continued to account for the majority of semiconductor sales worldwide in 2020, capturing 55% of the total market, according to new data from IC Insights.
In contrast, Chinese companies held just 5% of the global semiconductor market share.
The juxtaposition of global market share sales highlights the huge difference in where these chips are manufactured with only 12% of semiconductors currently being fabricated in the U.S. and most manufacturing happening in South Korea, Taiwan and China.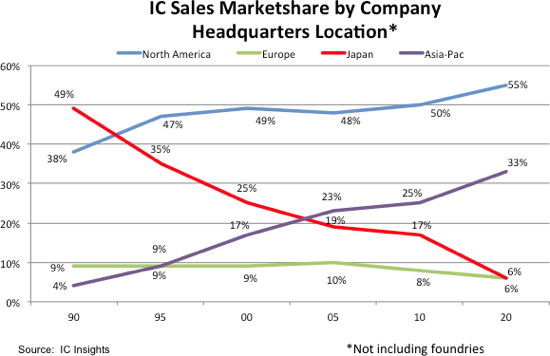 U.S.-based companies made up 55% of all sales yet only manufactured 12% of chips in 2020. Source: IC InsightsThis discrepancy is one of the significant reasons why U.S.-based semiconductor firms, trade organizations and the U.S. government is pushing for an increase in domestic U.S. chip manufacturing. As semiconductor manufacturing has been labeled as a matter of national security, additional domestic chip manufacturing could help ease the burden against geopolitical events from impacting the electronics supply chain or in the case of the current chip shortage affecting the market if a global event like COVID-19 happens again.
While semiconductor shortages are being felt across the supply chain, the automotive sector has been hit hard in particular with automotive OEMs expecting to take huge losses in the realm of billions of dollars due to fewer cars being manufactured. The shortages in the automotive sector could last the entire year and possibly into 2022.
Regional market share
After the U.S., South Korea companies held the second-most market share with 21%, followed by Taiwanese companies that on the strength of their fabless company sales held 7% of total chip sales. Meanwhile, Chinese companies held only 5% of the global IC market in 2020, IC Insights said.
IC Insights data comes from companies operating wafer fabs, fabless companies and total IC sales.
While South Korean and Japanese companies have a weak presence in the fabless IC segment, Taiwanese and Chinese companies have a low share of the IDM portion of the IC market. U.S.-based companies showed the most balance regarding IDM, fabless and total chip industry market share.
Japanese companies market share, which held almost half of the worldwide IC market share in 1990, only accounted for 6% of the market in 2020. European-based firms also held a 6% share of the global chip market last year.