Yandex has surpassed more than 6 million miles of autonomous driving in bad weather on the roads of Moscow, Russia.
Numerous companies are developing autonomous vehicle technology, driving on closed and public roads to test the next-generation automotive technology in real-world conditions. Yandex is working on developing self-driving knowledge in difficult weather conditions. The company said that these conditions pose a challenge for self-driving cars due to reduced visibility and slippery roads. This creates different traffic dynamics and as a result impacts a vehicle's decision making on the road.
Specifically, lidar lasers reflect off the snow, preventing them from reaching a target. Yandex created lidar that generates a million beams per second so that a significant number reach the intended objects, even if some are reflected. Yandex enhances the lidar performance in snow by implementing neural networks to filter snow from the lidar point cloud to enhance the visibility of objects and obstacles around the vehicle.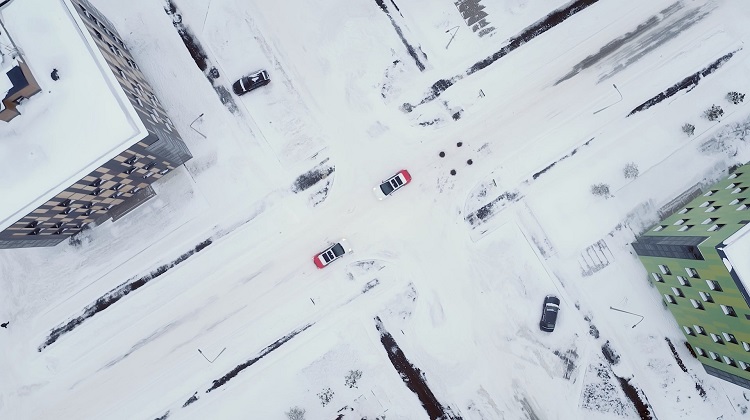 Yandex's self-driving cars in the snow are testing how systems work under brutal winter conditions. Source: Yandex
Winter weather also creates condensation clouds created by car exhaust and heating vents. This condensation can look like solid obstacles to lidar but using neural networks allows the technology to recognize car exhaust fumes. The information is fed into the planning system, so it ignores these fumes to help the driverless cars function correctly, even when surrounded by heavy exhaust and heating vent condensation clouds, Yandex said.
Additionally, snowfall can change a landscape so road markings and even road boundaries cannot be seen. Localization technology with self-updating maps enables real-time adaptation in a city. Even before the maps are updated, Yandex's driverless cars continue to localize themselves and navigate seamlessly through streets. The sensor fusion technology combines data from lidar, inertial measurement units and odometry to localize themselves even when a car slips or skids.
Several hazards also do not just disappear in winter and could be even more complicated if they get covered by snow. Also, a significant increase in the use of road maintenance equipment happens in the winter. Snowdrifts also narrow the streets, meaning less available parking spaces and an increase of illegally double-parked cars make it hard to keep normal traffic flowing.