Developing new devices for artificial intelligence (AI) applications requires equipment with robust testing capabilities. Among the leaders in the field is UltraFLEX, the system on chip (SoC) testing platform developed by Teradyne Inc., an American automated test equipment (ATE) supplier based in North Reading, Massachusetts.
The company recently announced that its UltraFLEX test platform has enabled AI chip company Syntiant Corp. to employ an aggressive go-to-market strategy — from qualification to production in eight weeks — for bringing its microwatt-power, deep learning neural decision processors (NDPs) to a worldwide customer base.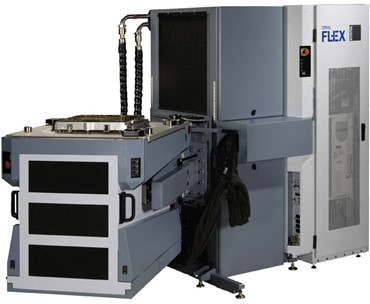 Teradyne's UltraFLEX test platform enabled Syntiant's aggressive go-to-market strategy for shipping millions of its Neural Decision Processor chips. Source: Teradyne"Our deep learning NDP10x chips leverage our custom designed near-memory compute architecture, so we were looking for a partner with a deep understanding of the AI chip market," said Pieter Vorenkamp, Syntiant's chief operations officer, in a press release. "The UltraFLEX power supplies were critical for the low current measurements needed to characterize our device, and drive quality and yield in production."
Syntiant's NDP100 and NDP101 chips are designed to run hands-free, cloud-free, always-on voice and sensor AI applications on battery-powered edge devices. According to the company, they run workloads under 140 uW, and improve AI efficiency by 100 times and throughput by 10 times compared to traditional microcontrollers (MCUs). Dozens of application-defined audio classifications — keyword spotting, wake word detection, speaker identification, audio event and environment classification, as well as sensor analytics — are supported by Syntiant's architecture.
The UltraFLEX test platform is currently being employed to support the qualification and production ramp of Syntiant's NDP120 and NDP121. These second-generation chips are designed to run multiple audio applications simultaneously at power consumption levels under 1 mW. Syntiant announced separately that its NDP120 is the recipient of a CES 2021 Innovation Award. In 2020, its NDP100 was similarly honored.
"We are thrilled that our technology continues to be recognized by CTA in the embedded technologies category," said Kurt Busch, Syntiant CEO. "We believe our deep learning solutions will be the technology that bridges the gap between people and machines, and ultimately better connect people with people."