We have yet to turn the corner on the coronavirus pandemic, but recent vaccine news has been promising. One sign of light at the end of this long tunnel: Some of the trade shows that normally draw professionals in the electronics testing field have begun to appear on the 2021 calendar, with an anticipation of at least partial in-person attendance.
Electronics supply chain trade show Semicon West, for instance, which presented in an all-virtual format in 2020, is slated to be a hybrid event featuring a mix of virtual and in-person elements in 2021. Hosted by industry association SEMI, the show is billed as the flagship event for the semiconductor industry. It runs July 13-15, 2021, at the Moscone Center in San Francisco; the Design Automation Conference (DAC 2021) will be co-located with SEMICON West, as well. SEMI also has a full schedule of upcoming global gatherings planned throughout Europe and Southeast Asia.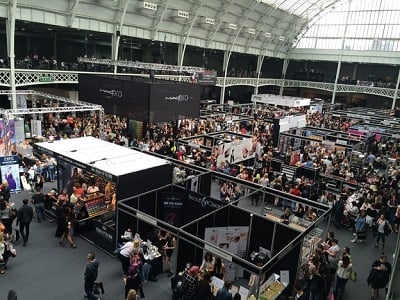 Remember when trade shows looked like this? They may soon be a making a return. Source: Semicon WestFor a smaller focus, there's no shortage of Design-2-Part shows to select from in 2021. The D2P schedule reads almost like a touring calendar for a rock band, beginning mid-February in Grapevine, Texas, and wrapping up mid-November in Raleigh, North Carolina. These shows are geared toward contract manufacturing, offering the opportunity for OEM decision-makers to connect with regional job shop representatives.
The advanced design and manufacturing trade show series AmCon is similarly positioned, with events starting March 2021 in Wichita, Kansas and continuing through November in Detroit. Within AmCon's purview are solutions in 3D printing, electronics manufacturing, robotics and more. Its website outlines a list of pandemic precautions, including mandatory mask-wearing in exhibit halls, booths spaced 6 ft apart, one-way show aisles and the like.
Of course, the best-laid plans are prone to upheaval, and progress on fighting the virus could impact anything currently on the calendar. Such was the case in 2020 for Advanced Manufacturing East, the six-show event that was first moved from June at the Javits Center in New York City to August at the Pennsylvania Convention Center in Philadelphia; it was subsequently rescheduled as an in-person event in December and ultimately transitioned into a virtual format.
Currently, however, the show is back on track for New York in June 2021. Its host, Informa Markets, also has a variety of additional shows slated for various locations in the United States, Canada and Europe, including the electronics-focused DesignCon, April in San Jose, California. After moving to a virtual format for 2020, electronics manufacturing trade show SMTA International, will also be co-located with Informa's five-show Minneapolis event in November.
Stay tuned for updates.