Innova Electronics Corporation, a supplier of test equipment and diagnostic reporting solutions for the automotive aftermarket, recently released its first diagnostic tablet.
The 7111 Smart Diagnostic System (SDS) all-in-one solution pairs a tablet with the RepairSolutions2 knowledge base. According to the company, this complete diagnostic system in single form factor makes it easy and efficient to find and fix problems on today's vehicles. The system is useful to technicians and advanced automotive enthusiasts.
"Longtime Innova users will recognize that the user interface on the new smart tablet resembles [Innova's] all-in-one patented screen," said Bob Madison, Innova's director of technical services.
An intuitive touch-screen user interface is one of the ways the 7111 SDS helps technicians find and fix issues quickly. The guided diagnostic system provides information by category, such as emissions system status,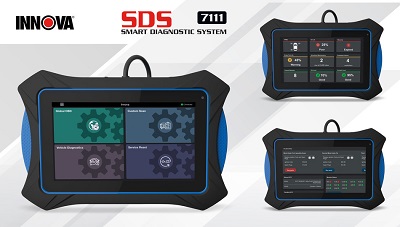 The diagnostic device is an all-in-one solution featuring an automotive diagnostic tablet tool and RepairSolutions2 knowledgebase. Source: Innova Electronics Corporationvehicle codes and severity, adaptations, relearning, calibration and initialization.
The tablet allows for bi-directional system testing and diagnostic routines, original equipment manufacturer enhanced level diagnostics, as well as trip cycle and service resets. For supported vehicles, it also provides a complete network scan with diagnostic results. This includes power door locks, remote keyless entry and HVAC systems operation.
The 7111 SDS gives repair technicians the ability to identify and inform customers of issues that would not be found during visual inspection, expediting repairs and preventing inconvenient breakdowns.
The direct, built-in access to Innova's RepairSolutions2 knowledge base sets the SDS apart from other tablet tools. Along with more than 60 million fixes, verified by ASE Certified master technicians, users have access to vehicle-specific inspection reports and guided diagnostics, and troubleshooting of problems related to vehicles' on-board diagnostic systems.
LifeTime Link provides parts recommendations with in-app parts purchase, expediting the purchase and procurement process.
Scheduled and unscheduled service maintenance, factory and NHTSA recalls, technical service bulletins and predictive diagnostics are available in printable reports. These reports can be used by automotive repair shops to alert customers about potential issues, to inform customers about specific repairs and get authorization. Remote diagnostic support and updates from Innova's ASE Certified technical support team are also included.