United Chemi-Con's new surface mount polymer aluminum (PMA) electrolytic capacitors are now available from New Yorker Electronics. The PMA series in the molded plastic case ensures 5,000 hours of operation at 105° C guaranteed.
The PMA series is designed for applications where super
low profile polymer capacitors
are needed and is especially useful in high frequency filtering applications. They are recommended for low to mid-voltage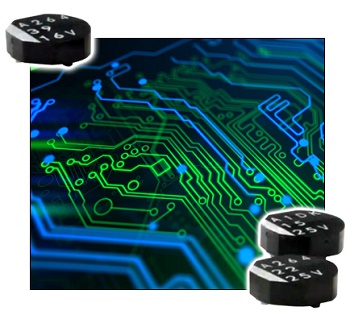 primary/secondary side smoothing and hold up where ultra low-height profiles are required.
The PMA offers excellent root mean square-ripple capability and extremely low equivalent series resistance (ESR). It also supplies super high thermal resistivity (15,000 hr tested with no ESR increase from initial). The PMA series is halogen free and offers the electronics designer the ability to meet low profile filtering applications with a high performance/reasonable cost 3.0 mm maximum height in a uniform package.
The series has voltage ranges from 16 V to 25 V and capacitance ranges of 22 uF to 68 uF. The ESR ranges from 40 mOhm to 50 mOhm, a tolerance of ±20% and ripple currents of 2 A at 100 kHz, 2.2 A at 100 kHz and 2.1 A at 100 kHz.