Researchers from Tufts University created a flexible electronic sensing patch that can be sewn into clothing for health monitoring. The patch analyzes sweat for markers to diagnose and monitor acute or chronic health conditions. Athletes could use the patch to monitor their health during athletic performance. The patch is made of special sensing threads and electronic components. It has wireless connectivity for real-time data acquisition, storage and processing.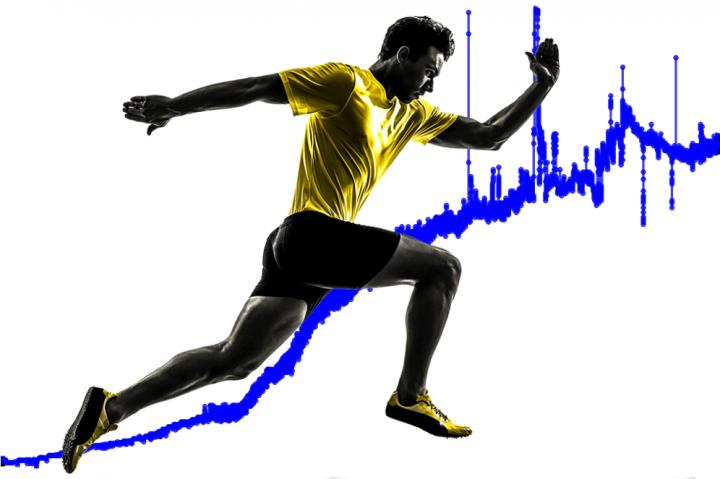 Backdrop: readout of lactate in sweat during exercise. Source: Sameer Sonkusale, Nano Lab, Tufts University
The new patch provides a more detailed understanding of health, stress and overall athletic performance needed for medical data collection, high performance in athletics and military applications. Metabolic markers are an indicator of human health.
The patch performs real-time measurements of important biomarkers that are present in sweat. The biomarkers include sodium and ammonium ions, lactate and acidity. The platform is versatile enough to incorporate a range of sensors that can track the given markers in sweat.
The measurements gathered have diagnostic applications. Sodium can indicate hydration status and electrolyte imbalance. Lactate concentration is an indicator of muscle fatigue. Chloride ion levels help diagnose and monitor cystic fibrosis. Cortisol is a stress indicator that can be assessed for emotional stress and metabolic and immune functions. In addition to health monitoring, athletes can use these markers during exercise to aid in predicting their performance peaks and declines.
Integrating the sensors into clothing is possible thanks to flexible threads coated with conductive inks. The inks alter the functionality of the threads. For example, lactate is detected by coating the thread in enzymatic sensing material that incorporates the enzyme lactate oxidase.
Researchers tested the patch on men and women with a range of physical conditioning and diet habits. They used the patch to monitor electrolyte and metabolite response during maximum extension exercise on stationary bikes. The sensors detected a variation in the participants' levels as they moved up and down within five to 30-second intervals. The results of this study proved that the sensor could detect consistent patterns of analyte expression. The team says that the patch could be used in future studies.
A paper on this technology was published in NPJ Flexible Electronics.