An effective solution to the detection of oxygen, combustible and toxic gases in a range of light industrial applications, including wastewater treatment, industrial plants and commercial buildings is offered by MSA Safety. The TG5000 Gas Monitor helps personnel work safely with confidence by providing a variety of gas sensor options and installation configurations.
The modular single or dual sensor mechanical design offers application flexibility and helps to reduce wiring costs. The organic LED multilingual display and bright LED indicators show at a glance the instrument status (power, fault or alarm), gas readings and its Bluetooth connection. The TG5000 Monitor can operate on a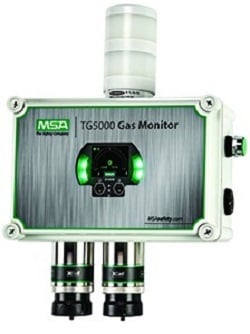 Source: MSA Safetycompletely stand-alone basis with its large LCD display, quick-check LEDs, and four relay outputs (three alarm and one fault) or can be connected with a 4 to 20 mA output to a control system (PLC, DCS). Digital HART communication is also available.
The unit can also be configured for remote monitoring applications, where the installation area requires that the sensor be separated from the electronics. The TG5000 includes a 95 dB audible alarm with horn silence control. Optional accessories include a sunshield and a strobe light kit.
The TG5000 features MSA's advanced XCell sensors, which respond rapidly and reliably to leaking gases to help protect people, equipment and facilities, and TruCal Technology that achieves lower drift for superior sensor stability and performance. The result is longer sensor life with longer calibration cycles (up to 18 months for hydrogen sulfide and carbon monoxide) that require fewer maintenance technician hours, which lowers overall sensor life-cycle costs while maintaining effective protection levels.