The coronavirus has caused massive upheavals across the globe, hitting the worldwide economy hard with supply chain disruptions and a slow down in the sale of numerous devices, cars and more.
The COVID-19 pandemic will impact the smartphone market extremely hard in 2020, declining 11.9% as supply chain issues evolve into demand-side problems as unemployment rises and extended store closures have consumers buying fewer smartphones, according to a new report from International Data Corp (IDC).
Additionally, the market for wearables is expected to grow substantially slower for similar reasons, reaching 254 million units, down from the previously forecasted 281 million, according to new research from ABI Research. While this is a minor increase from the 241 million shipments in 2019, this is a significant drop from the projected forecast due to the coronavirus pandemic.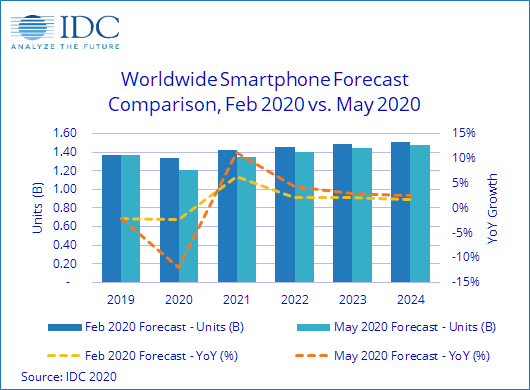 Smartphone shipments are expected to reach 1.2 billion units in 2020 with a decline of 18.2% in the first half of the year due to macroeconomic issues associated with COVID-19. Global smartphone shipments are not expected to return to growth until the first quarter of 2021, IDC said.
"Nationwide lockdowns and rising unemployment have reduced consumer confidence and reprioritized spending towards essential goods, directly impacting the uptake of smartphones in the short term," said Sangeetika Srivastava, senior research analyst with IDC's Worldwide Mobile Device Trackers. "On the brighter side, 5G is expected to be a catalyst throughout the forecast period, which will play a vital role in worldwide smartphone market recovery in 2021."
China will continue to be impacted by COVID-19, but as lockdowns ease, supply chain disruptions end and factories resume operations, the Chinese domestic market will see a single digit decline in 2020. Meanwhile, Europe, with countries such as Italy and Spain hit hard by the virus, will see a double-digit decline in 2020.
"China's recovery has been impressive to say the least, especially given the initial impact of COVID-19 on the country," said Ryan Reith, program vice president with IDC's Worldwide Mobile Device Trackers. "There's no question that challenges lie ahead for the smartphone industry and we believe the economic downturn is going to cause some fluctuation in the vendor and price-tier landscape."
IDC said that other spending on devices for the home as more people work from home, including PCs, monitors and video game consoles to occupy children, will also take away money that could be used for smartphone upgrades to 5G. As a result, IDC expects more aggressive pricing on 5G smartphones, which could shake up some market share wins for smartphone vendors.
Healthcare wearables rising
Wearables will grow to 5% this year, compared to 23% between 2018 and 2019. While this is still decent growth, it is nowhere near the original forecast of 17%, ABI said.
"While wearables will see fewer shipments this year than originally expected, shipments of devices that can track and monitor healthcare vitals has lowered the impact," said Stephanie Tomsett, research analyst at ABI Research. "Healthcare wearables are already being utilized to help track the progression of COVID-19 and monitor patients remotely."
Healthcare wearables are expected to see a small increase in the second half of 2020 with smartwatches and sports, fitness and wellness trackers leading the way. Devices from Apple, Samsung, Fitbit, Withings and Oppo are expected to offer monitoring devices such as ECG tracking, sleep apnea detection, arrhythmia detection and blood tracking. Other new devices have emerged to help with social distancing including new patches to monitor for breathing or remote temperature screening to avoid contact with possibly infected individuals.
"The COVID-19 pandemic has brought a higher health awareness to all individuals around the world," Tomsett said. "Wearables with advanced health monitoring features will begin to buoy the wearables market in the second half of 2020 and pave the way for 289 million wearable shipments by 2021 and 329 million by 2022 as the world recovers from the pandemic."