Vicor has introduced the DCM5614 isolated, regulated 270- and 28-V DC-DC converter for advanced airborne, shipboard and unmanned aerial vehicle (UAV) systems where power density, weight and efficiency are critical.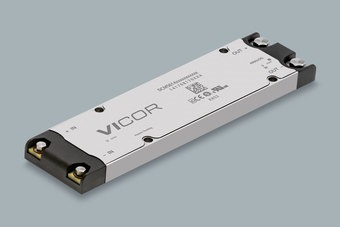 Source: VicorThe converter features an output power rating of 1300 W in a VIA package size of 5.6 x 1.4 x 0.3 in. and provides power density of 451 W/in3 at a weight of just 178 g. The low-profile module, available in chassis- or PCB-mount form-factors, incorporates a DC-DC converter, inrush protection and optional analog or digital communication. An optional secondary referenced PMBus-compatible telemetry and control interface provides access to the DCM's internal controller configuration, fault monitoring and other telemetry functions.
With 96% efficiency, power dissipation is significantly reduced, and the innovative planar and thermally adept VIA package enables multiple cooling strategies for enhanced thermal performance. Modules can also be easily paralleled for increased power or stacked for increased output voltage.